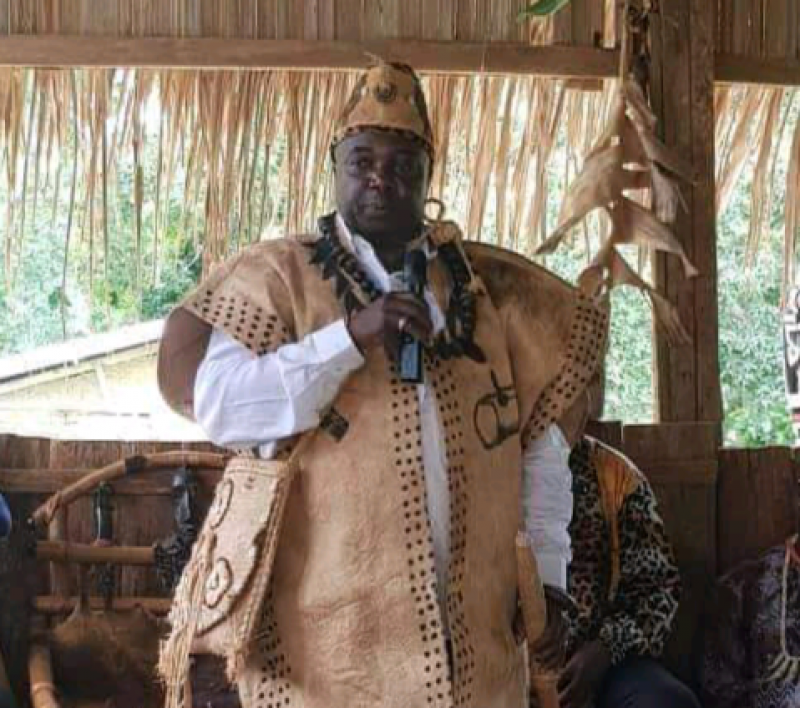 Traditional rulers in Cameroon's South Region have raised the Mayor of Buea, Ekema Patrick Esunge to a rare class of nobility for his fearlessness and Dutch courage towards nation building.
Ekema was given the title 'Nyamoto Kpwatolo' [loosely translated to mean The Great Warrior] for his contribution to nation building. The Mayor was given the title in Mbone Nkok village, Mvila Division, South Region Saturday, July 27, 2019, in a ceremony presided at by the South Chiefs Conference President, His Royal Majesty Chief Rene Desire Effa, in the presence of the Secretary General at the South Governor's Office, Alexander Le Grande.
'Nyamoto Kpwatolo' means "the Great Warrior" and is second only to "Nnome Ngii" a title currently held by President Paul Biya. According to the Chiefs, Ekema has contributed a lot to the growth of the State.
Ekema was also recognised for his courage in fighting the separatist-imposed ghost town operation in his municipality. The Mayor has also been a rallying force for national events like the Youth Day and the National Day celebrations as he mobilised thousands in his municipality to pledge their loyalty to the State and its illustrious leader, President Paul BIya.
The 'Nyamoto Kpwatolo' title not only qualifies Ekema Patrick Esunge as a son of the South region, but also a member of the Traditional Council.
In February 2015, Ekema Patrick was recognized for his developmental efforts and celebrated by Cameroon's most authoritative and leading English Language daily Newspaper, The Guardian Post as 2014'Best Mayor'' in the country.
Not only was Mayor Ekema given an award and a trophy in recognition for his drive towards making Buea the fastest developing town in Cameroon, he was equally singled out by North West Fons and raised to the rank of nobility in the North West by the fons of Guzang, Chomba and Nsongwa.
In October 2016, Ekema was given a civic reception by the Manyu Youth Association based in Buea. Mayor Ekema Patrick was decorated with the Manyu traditional regalia in the presence of the Manyu Youth National President and some prominent South West elites. The Manyu community assured the Mayor of their unflinching support in his fight aimed at transforming Buea and reiterated the fact that they were at his service whenever the need arises.