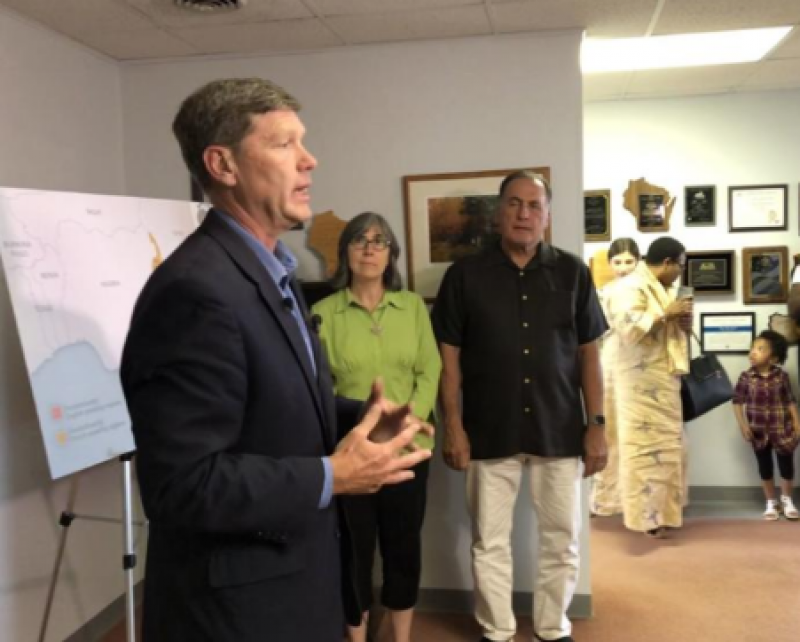 Ronald James Kind, an American politician serving as the U.S. Representative for Wisconsin's 3rd congressional district, since 1997 has called on Cameroon to end the violence and conflict in the country's North West and South West Regions.
The member of the Democratic Party was speaking to La Crosse Tribune Monday, July 8, 2019 after a recent visit to Cameroon.
Rep. Ron Kind said the violence and human rights violations taking place in Cameroon in the ongoing Anglophone Crisis were "silent atrocities" that the world needs to pay attention to.
The stories Ron Kind heard from civilians during his recent visit to Cameroon were "nothing short of horrifying," Kind, D-La Crosse, said Monday in his La Crosse office.
La Crosse Tribune reports that since 2017, the Cameroonian government has been fighting at least 10 separatist groups in the North West and South West regions of the country. The conflict has razed villages, burned schools, killed civilians and displaced hundreds of thousands of Cameroonians.
La Crosse Tribune adds that in Kumbo — a city in the North West region of Cameroon and a sister city to La Crosse — 176 people, mainly students, were kidnapped by unidentified gunmen at St. Augustine's College and were released a day later after negotiations.
Kind said a party from Kumbo traveled seven hours by bus through the contested area to reach the capital of Yaounde to share their stories with the congressional delegation that he was part of.
The purpose of the visit, led by Rep. Karen Bass, D-California, was to deliver a message to the Cameroonian government to end the fighting and bring international attention to the conflict, Kind told La Crosse Tribune.
Kind is a co-sponsor on a resolution introduced in the House by Bass that calls for Cameroon's government and armed groups "to respect the human rights of all Cameroonian citizens, to end all violence, and to pursue a broad-based dialogue...to resolve the conflict in the North West and South West regions."
After French-controlled Cameroon gained independence in 1960, part of British Cameroon voted to gain her independence by joining the French-speaking Cameron under a federal constitution.
The other part merged with English-speaking Nigeria. A new constitution in 1972 recognized the joint French and English-speaking entities as the United Republic of Cameroon.
Despite the union, Cameroon's government has been predominantly French-speaking. The English-speaking minority, who make up about 20% of Cameroon's population, felt the government favored people with French legal training and education for civil service positions.
Late in 2016, lawyers and teachers in English-speaking cities in the North West and South West regions went on strike to protest the appointment of French magistrates and teachers who didn't speak English to positions in English-speaking regions.
The government responded by blocking internet access and arresting protestors. Matters have since worsened but government says it's ready to dialogue.
Auteur: