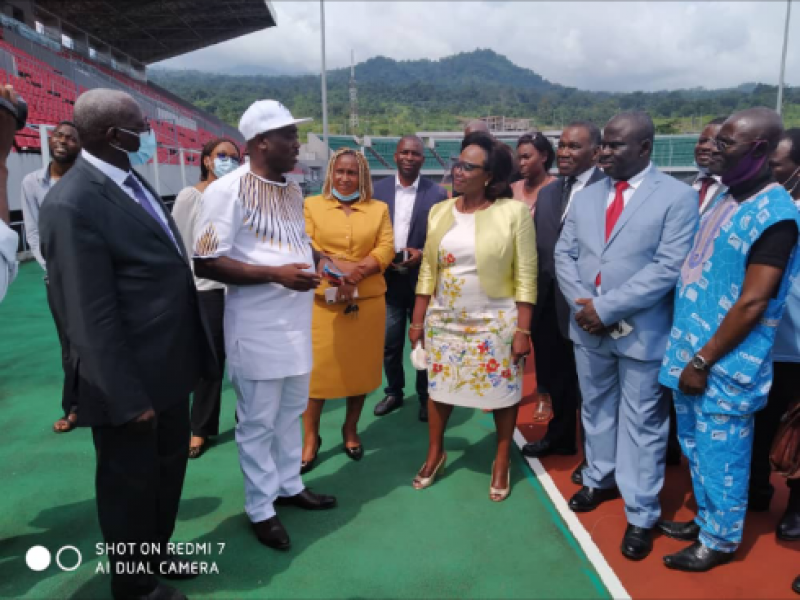 Essential cables are said to have been stolen from the Batoke Limbe II optic Fibre Landing Station expected to supply uninterrupted internet connection during the 2021 African Nations Championship.
The General Manager of Cameroon Telecommunications, CAMTEL, Mrs. Judith Yah Sunday Achidi received the report during a working visit to Limbe last Thursday.
After a visit to the Limbe Centenary Stadium, Limbe Middle Farms Stadium, and the Limbe Omnisport Stadium, the GM of CAMTEL made a stop at the accreditation center lodged at the Limbe City Council Conference Hall before proceeding to Batoke.
At Batoke, Chief Otto Molive Molungu of Batoke crowned Mrs. Yah Achidi with the title 'Nyanga Awana,' meaning, 'Mother of all Children'. Carrying out the 'crowning' rites, Chief Molive called on the gods of the land to continually bless Mrs. Yah Achidi so that she will move from one success story to the other.
It was at the Batoke Optic Fibre Landing Station that CAMTEL's GM was told that the prime suspect behind the theft of some cables at the landing station some weeks back had been arrested.
The cables are said to link two standby electrical power generators that supply the internet equipment in the event of a power outage.
"The Fibre Optic Landing Station is walled round by a two-meter high perimeter fence. The yard is lighted when darkness falls at night," The Post reported on Monday. "CAMTEL officials added that they cannot easily comprehend how the supposed thief succeeded when the generator enclosure is walled round by metal bars with enough open gaps in-between that anyone outside will be able to see whoever is inside the enclosure. Yet, the thief succeeded even when this same enclosure, they said, is supposed to be within sight of a military officer stationed on guard."
South West regional officials of CAMTEL, however, say the stolen cables will be replaced as soon as possible.
Limbe will host teams for the African Nations Championship to take place from January 16 to February 7, 2021, in Cameroon.