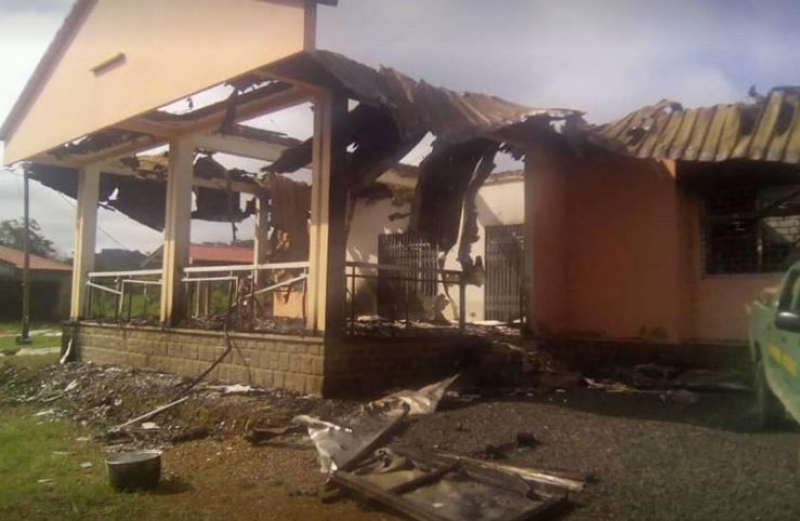 The over 140 Million residence of Victor Arrey Mengot, Minister of Special Duties at the Presidency of the Republic, has been visited by wild fire set by unknown individuals.
The fire incident occurred early Saturday June 2, 2018 in his native village Mbinjong village in Upper Banyang Subdivision, Manyu Division in the South West region of Cameroon.
The main house was completely brought down to ground level but some pillars and the front view of the structure. Meanwhile another smaller house near the main one was partially brought to down.Victor Arrey Mengot is CPDM bigwig from Manyu Division and member of the Central Committee of the ruling party.
Fire Visits Shops in Mile 16-Bolifamba
Some shop owners in Mile 16, Buea Subdivision in the South West region woke up early Saturday in grief and bewilderment following the razing to ashes of over half a dozen shops in the area around the Okada Park.
The fire according to sources, started around 2:30 am Saturday but the origin is still unknown. It is however suspected that the inferno was as a result of the current Socio-Political impasse in the two English speaking regions of Cameroon which has seen the highest number of fire incidents in the history of Cameroon.
Meanwhile the abducted Principal of GHS Bolifamba, Sanga Georgiana Enanga has reportedly been released, one week after her kidnap around the school premises.
Hon Jones's House Vandalized
The house of the former Member of Parliament for Ndu, Hon Tansah Jones was visited by unknown men Friday night at about 11pm.They destroyed windows simultaneously with his vehicle parked outside.He narrates that the act seems to be a well calculated move by the perpetrators.