Accident survenu ce Lundi 12 Juillet 2010 vers 15h
Arrivé aux Etats-Unis en fin de semaine derniere assister a un Forum de la diaspora organisée par une nouvelle association des camerounais dénomée CAMDIAC, le directeur de publication du journal Le Messager est mort sur le coup, dans un accident de la circulation ce Lundi 12 Juillet peu avant 15h sur une autoroute dans l'Etat de la Virginie.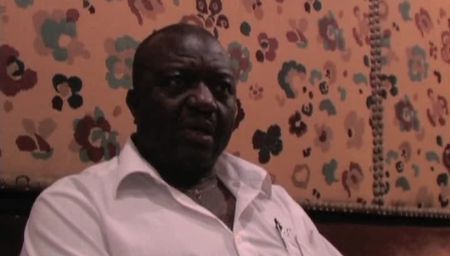 Le Forum, qui s'est effectivement tenu Samedi 10 Juillet dernier a Washington DC, avait pour objectif déclaré de "Chasser Paul Biya d'Etoudi" en 2011. Ce forum avait ete annonce ici meme sur Cameroon-Info.Net, suite a un article publie par le Journal Messager. Les organisateurs avaient deplace quelques fortes personnalites du paysage politique camerounais notamment Pius N. Njawe, DP du journal le Messager, Dr. Adamou Ndam Njoya, Guerandi, etc... Ci-dessous, une video postée sur Cameroon-Info.Net par "
Charly Keutch
", un fidele de CIN, la veille du Forum (cad le 09 Juillet 2010) ou vous pouvez reconnaitre Pius N. Njawe participant activement a l'accueil des personnalites a l'Aeroport International de Washington Dulles...
.
Ci-apres les circonstances de l'accident telles que rapportees par la presse locale: "
One killed, two injured in I-664 crash near Bowers Hill
One person was killed and two were injured, one critically, when a tractor-trailer rear-ended a disabled Lexus on I-664 South near the Bowers Hill interchange just before 3 p.m. today.
State police had to shut down the interstate at Military Highway and divert traffic onto exit 13A, according to the Virginia Department of Transportation. Drivers had to make a U-turn onto Highway 58 East in order to access I-664. The accident was reported at 2:55 p.m., said Capt. Mike Thibeault, Chesapeake Fire Department spokesman. The first rescue crews arrived at 3:03 p.m. The four-door, cream-colored 1994 Lexus sedan had become disabled in the left-center lane of the four-lane highway, said Sgt. R.W. Walker with the Virginia State Police. The car was stopped just over the crest of a hill before the exits for I-264 East and I-64 West, he said. The tractor-trailer, a 2000 Mack truck owned by J.W. Canaday Trucking Inc. of Providence Forge, struck the rear end of the Lexus and pushed it several hundred feet, Walker said. The front-seat passenger in the Lexus was declared dead at the scene. State police have identified the victim, but because he is not a U.S. citizen, it may take extra time to notify next of kin, Walker said. The driver of the Lexus, which was registered in Washington, D.C., was taken to Sentara Norfolk General Hospital with critical injuries. The driver of the truck also was taken to Norfolk General with injuries not considered life-threatening, Walker said. The investigation is ongoing. I-664 was reopened about 6:37 p.m
© July 12, 2010 By Kristin Davis, Lauren Roth The Virginian-Pilot
" Cameroon-Info.Net transmet ses condoléances les plus attristées à la famille de M. Njawé, a toute l'equipe du journal Le Messager et de Free Media Group, ainsi qu'à toute la famille camerounaise des médias.