Most Cameroonians especially those who regularly crossed the Mungo Bridge are yet to come to terms with the dramatic collapse of this historic crossing point between the two Cameroons. The regime in Yaounde is even most embarrassed because the physical collapse of the bridge is bound to trigger off the Anglophone problem...
While the Marafa Commission is yet to dig into the real cause of the "accident", the Minister of Special Duties at the Presidency of the Republic, Elvis Ngolle Ngolle, was quick to tell the BBC that nothing pointed to a criminal hand behind the collapse of the bridge.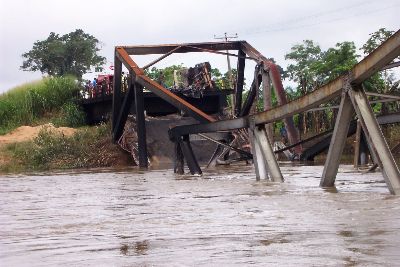 This argument truly holds much water as far as no pro-Anglophone group has not made any statement since the incident occurred in the night of Thursday July 1, 2004. However, the fact that the ill-fated fuel tanker tint crashed on the bridge was transporting fuel from Douala to Victoria (Limbe) is mind-boggling. Cameroonians know just very well that fuel is refined in Victoria in the Anglophone Southwest Province of the Cameroon's. The fact that this fuel and other petroleum products are stored in Douala before distribution to other parts of the country including Victoria itself has always been an issue of vexation to many Anglophones. It is a paradox that petroleum products sell in Victoria at the same prices as elsewhere or even higher in the country despite the fact that crud oil is exhausted from the Ndian Division and imported crude refined in Victoria. Beyond this concern about the sharing of the country's oil wealth, the regime's feet dragging over the Victoria deep-sea port project has also been brought to the fore by the collapse of the Mungo Bridge. If the port were functional, it would have spared the regime the trouble of contemplating a deviation through Kumba. Petroleum and agricultural products would have simply been exported or ferried to Douala by sea.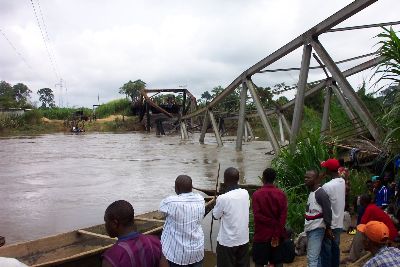 The impact of the Kumba deviation in terms of heavy-duty transportation is very limited. The capacity of the earth stretches to carry trailers and big fuel tankers during the rainy season are small. So ? is the capacity of the envisaged ferry to carry people and goods over the River Mungo. That is why the negative political and economic effects of the collapsed Mungo Bridge will be devastating to the country's recovery efforts. But over and above all, the fall of he Re-unification Bridge will weaken the bond of unity between the two Cameroons and fuel Anglophone disenchantment over the reckless abandon of infrastructure on their own of today's Cameroon.