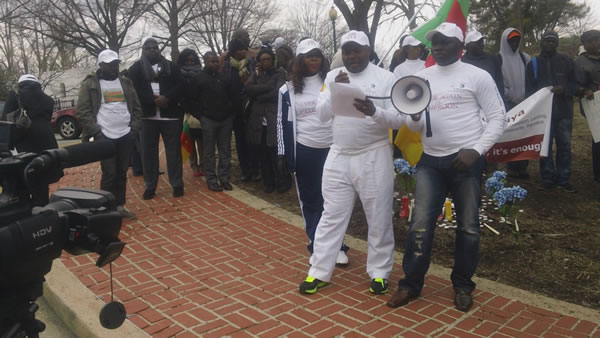 5th COMMEMORATION OF THE FEBUARY 2008 RIOTS IN CAMEROON
(Peaceful Demonstrations that Paul Biya quelled with Military Attacks)
Thursday February 28th, 2013
Embassy of Cameroon to the USA, 11AM-2PM
3400 International Dr, Washington, DC 20008


Speech by Napi Tagnidoung, President of CODE-USA
Dear members and patriots from Cameroon
Dear friends of Cameroon,
Dear leaders and city officials of Washington DC
Dear journalists and activists
Dear politicians and human rights advocates,
I am humbled and delighted to stand up today in front of the Cameroonian Embassy here in Washington DC the capital of the UNITED STATES. It is great privilege to part be of this commemoration. It is a sensation of sadness to know that many of our fellow Cameroonians lost their life that day. We are talking about 200 to 400 citizens around the country. However the government accepts they killed 40 unarmed citizens. Is this number insignificant? Is this normal to allow a government that kills its own unarmed citizens? Its only success is maintaining a dictatorship as 80 years old tired President Paul Biya?
The current ambassador in post here lacks inspiration and the only thing he can propose is to support the head of state. Should we keep supporting someone who failed the country the first time? Someone who could only recall bad memories and false promises? Ambassador Foe Atangana is asking you to go back to Cameroon where 90% of youths are unemployed and have lost the hope of a future.
Many of you were persecuted at many occasions. Is it now that Mr Biya will respect his own big ambitions? It is more than a year that he rigged the elections after a personified constitution. He is delaying our freedom with his so called "advanced democracy" or " The government of the people by the CPDM for president Biya" that put Cameroon in a protracted Transition to Democracy with all the Constitutional tampering and Political Instability, the alienation of our civil service, the militarization of our army force, the undermining of the youth. This has resulted in pushing Cameroon to be classed among the most unstable, unpeaceful countries with a high risk that can result in incalculable conflict resulting from social unrest and leading to the eventual killings of innocent citizens as it has been the case since 1955.
Before his assassination, our Founding father Um Nyobe told us that we need and independent nation and not representatives of the French government forever. I am afraid that Mr. Biya loves Francois Hollande more than Um Nyobe and Amadou Ahidjo whose body still lies in Dakar.
We are here today to commemorate the lives of those who in way no to in conflict with Biya died for our nation. We should be proud of these martyrs, we have the names and we are still expecting that the UN will one day investigate in every corner of our beloved country to establish the real number of our martyrs and punish the guilty. If you cannot be proud of Tiwa Jacques and many others who were gunned down that Feb 2008, nobody will ever be. If you don't do something to stop the progress of the BIR the next bloodshed in Cameroon will wipe up the entire cities and villages in the GRAND-WEST part of the country. The memory of FEV is still strong and it could happen again.
The Douala – Yaoundé highway AXE LOURD like many other roads are still killing ordinary Cameroonians like bugs.
A journalist from icicemac.com during an interview asked me about whether I thought the Arab Spring could come to Cameroon again: I said yes. Don't we say "the same causes produce the same effects?"
Is it not the same government in place that decided to personify the amendment of the constitution?
Is it not the same government that caused increases in prices and made life expensive in Cameroon?
Is it not the same government that refuses to implement the constitutional right to declare property and asset in accordance with the constitution?
Is it not the same government that has made Cameroon one of the poorest countries in the world through the Heavily Indebted Poor Countries Initiative?
Is not the same government that has abandoned its own students without a scholarship in China and elsewhere? If I have time I will elaborate on this in the following lines as special case.
Is not the same government that allows AES SONEL to use load shedding/delestage instead of electricity for the same price?
Is not the same complacent government that allows SNEC to serve dirty water to citizens at the same price?
Is not the same government that has legalized feymania that has become way of life among the youths?
Is not the same government that calls me SPEARHEAD OF THE NATION(fer de lance) 31 years ago and still want me to call me again the same thing?
What happened to your brothers and sisters Cameroonians students in Russia and in China? In continuation of his anti democratic policies, Paul Biya and his government have exposed Cameroonian students on government scholarship in China to drastic and difficult situations. Paul Biya and his government are committing crimes against humanity same as those facing sanctions as world criminals. Paul Biya and his government have deliberately and intentionally exposed Cameroonian students to hunger, starvation, ill health etc. This is against international conventions and protocols.
These students have not received their scholarship allowances for about 20 straight months. The payment of these allowances was irregular suddenly they have stopped. When the students asked the government to pay this money, the Cameroonian government said they have been infiltrated by opposition members in the Diaspora and they are the enemies of the nation. We are talking about the children of CPDM militants. This is how much Machiavelli's orientation can be. Be prepared for another worst case of Feb 2008 riots, this time it will start by the young from the CPDM frustrated members.
The Arab Spring will soon become Camer-Spring and we hope that the army this time will arrest the real criminals currently hiding behind the shadow hooded of the current government instead of killing innocent citizens who are already systematically violated in their basic rights of HUMANS full of spirit of freedom.
In the name of this FREEDOM I call upon you to take the message to all Cameroonians to stay united on common goals, on similar objectives and a united mission for collective Triumph ending.
United we are strong!
United we stand!
United we are strong!
Divided we are weak and vulnerable,
With the blessing and support of all Cameroonians, we will prevail.
As today is ending we are declaring FEBRUARY 28TH A MEMORIAL DAY FOR ALL WHO DIED FOR FREEDOM IN CAMEROON.
Thank you for coming this commemoration and safe journey home to all of you from New York City, Philadelphia, Baltimore and all the Washington DC metropolitan. This event has come to the end! Thank you all!