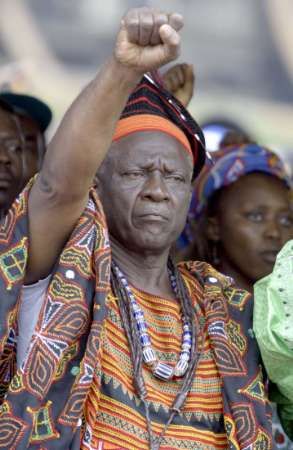 Since the announcement of senatorial elections last week, the National Chairman of the Social Democratic Front, SDF, Ni John Fru Ndi has been very furious and continue insisting to dialogue with President Paul Biya.
Ni John as he is fondly called convened an extra-ordinary SDF National Executive Meeting (NEC) over the weekend in Bamenda where he used the occasion to persist with his demand to dialogue with Mr. Biya.
But what will Fru Ndi wants to tell Mr. Biya? Last week after his audience with Prime Minister, he told reporters at his Yaoundé residence that he will want to know why President Biya is in a haste to organize senatorial elections before the Municipal and legislative polls.
The Chairman's cry even before the senatorial poll was announced has been that the electorate for the April 14 elections is composed of Municipal Councilors whose mandates expired six years ago. So they are not better placed to choose the 100 honorable senators to occupy the upper house of Cameroon's parliament, Fru holds.
What if Biya Refuses to Dialogue?
Since the charismatic SDF leader expressed the need to talk with the Head of state, the Presidency has been mute. But Ni John Fru Ndi has been unequivocal on what will happen if the dialogue fails to hold. Hear him:
"The SDF on our own will make sure that these elections don't take place. I am going to tell my boys to sharpen their machetes. I think we've had enough in this country. It is very unfair for the Cameroonian people. I think they want war; we are not going in for war. We are taking the machetes to make sure those elections don't take place."
He adds that the Biya regime wants to take councilors from the 2007 municipal elections that was discarded and condemned to be one of the most fraudulent elections in the country to vote for the upper house of Cameroon. Many other opposition party leaders like Prof. Maurice Kamto of MRC and other legal minds are in accordance with the reasons advanced by the SDF Chair.
According to Barister Atanga Charles, "When you take those who were poorly elected (referring to Municipal Councilors) to elect an important chamber of the legislation of the country, we can only see behind it a smoke screen senate that will come out by the end of April and these are all tactics of the regime"
Will the Fru Ndi versus Biya Talks ever hold for the April 14 polls? Only time will tell.