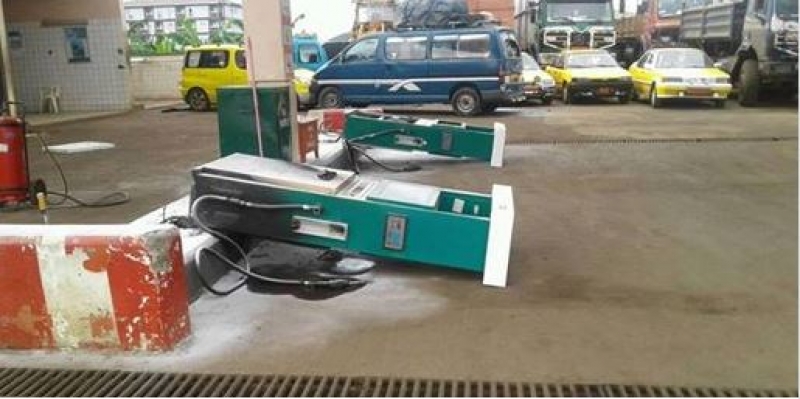 Two Policemen have been allegedly killed at the 3rd Police District in Muea, Buea Subdivision by suspected Separatist fighters early Sunday.
The Separatist fighters stormed the Police Station early Sunday shooting indiscriminately, they blocked Mile 17-Muea-Ekona road breaking loose the Cell at the Station and shooting at two Officers. There are reports of escape of detained persons in the cell.
The fighters turned to a nearby fuelling station, Bocom and destroyed the pumping machine before disappearing into the bushes.
Shortly after the showdown at the Muea Police Station, elements of Rapid Intervention Battalion, BIR arrived the scene armed to the teeth searching all quarters to trap the fighters.
Muea experienced a lockdown on Sunday, its market day but everywhere is calm as stores, stalls have remained shutdown. Movements have been self restricted as travelers are stranded at Mile 17, Buea.The attack at the 3rd Police District came after sporadic gunshots around the Mile 16 Bolifamba speed brakes.
Everyone is indoors around Muea, a source said he saw combat ready military men everywhere, looking furious and ready fo any action.
One Gendarme Killed In Tudig, Mbengwi
On Thursday June 29, 2018, a patrol team of Gendarmes from Ngie, was attacked around the Tudig village in Mbengwi, chief town of Momo Division.
One Gendarme Officer, Messanga Kounou, was killed in the ambush, five others sustained injuries.
The injured victims were; Kwa Clarence, Obama Innocent, Banwe Lévis, Souleymanou Djaouro, Tataw Victor.
Sources say one AK47 was taken away with ammunition. Security source says traces of blood were found in the bushes, where the armed men ran, assuming that they also had casualties.
In Fundong, headquater of Boyo Division in teh North West region, four military trucks arrived Saturday night to reinforce security after armed men stormed the area, killed a man in front of his kids, believed to be against ghost town.
Auteur: