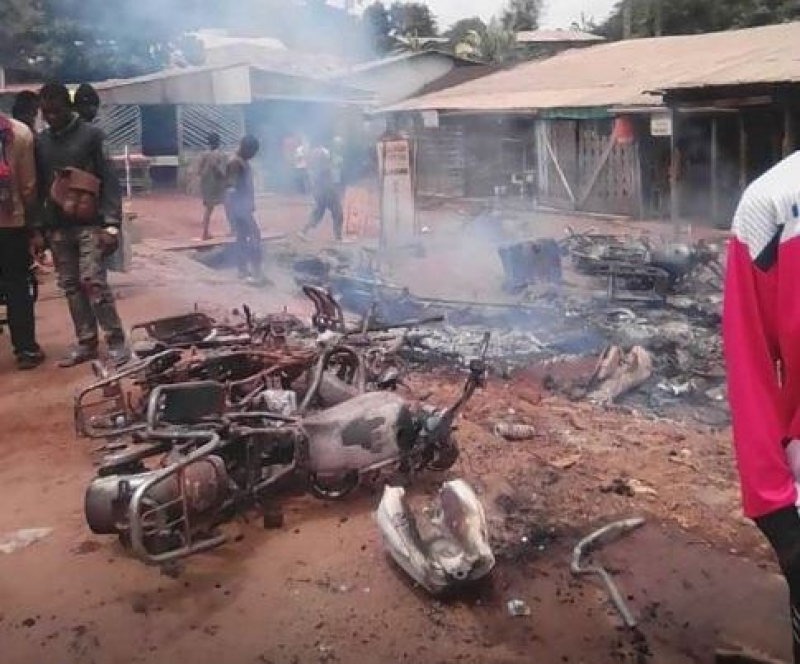 Gunmen suspected to be Ambazonia fighters have destroyed more than five cars belonging to teachers in some schools in Bafut Subdivision, Mezam division, North West Region of Cameroon Friday May 11, 2018. The Military retaliated by setting ablaze Motor Bikes to prevent the fighters from using them for circulation.
The atmosphere was tense in Bafut Subdivision, Friday afternoon when Ambazonia fighters invaded Nsoh Bafut village shooting and scaring locals especially students and teachers who were at the moment in schools.
They visited Government High School Bafut and sent everyone home threatening to deal with anyone who fails to adhere to their instructions of "No school in Amba".
Two teachers were manhandled while students ran into bushes for safety.Cars parked outside were simply damaged. The fighters also visited GTHS Bafut where same acts were carried out.Shortly after their departure, Military arrived Bafut in trucks and set Motor Bikes on fire in Njinteh while one Biker was shot in Agyati.The continuous exchange of shots sent panic stricken villagers into hiding.
North West Governor Bans Motorbikes in Bafut
In reaction to Fridays showdown in Bafut which saw destruction of properties, killing and torture, the Governor of the North West Region, Adolphe LELE L'Afrique has issued a release, banning the circulation of Motorbikes in Bafut Subdivision including private owned Bikes, till further notice.
The Governor however said bikes of civil servants and especially military and those with authorization will be allowed to circulate.Mr. LELE L'Afrique has warned that any defaulter will be dealt with according to the law .
Auteur: