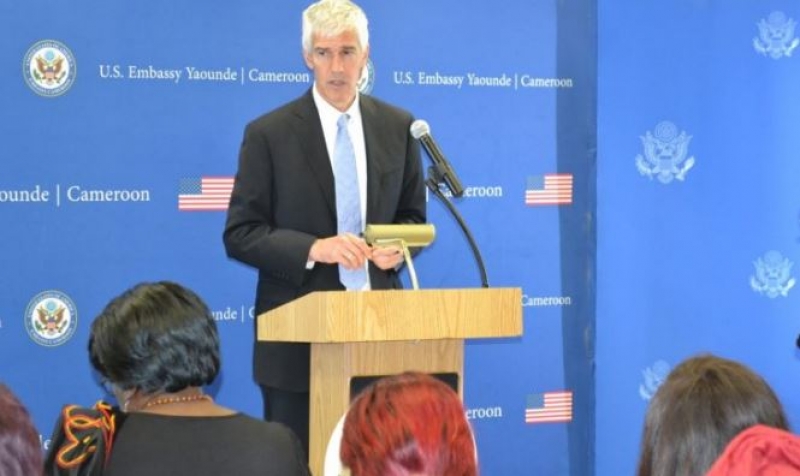 The US Ambassador to Cameroon, Peter Barlerin, has condemned calls by some Anglophone Activists for all Francophones living in the two English speaking regions to leave before the end of May. He however said only a small minority of Cameroonians abroad are doing so.
The US Ambassador was speaking at the Military Airbase in Yaoundé recently while offering two planes from his government to Cameroon with the aim of fighting against Boko Haram.
During the his speech delivered in French at the start, he suddenly switched to English, hammering on the Anglophone crisis, "With respect to tensions in Anglophone Regions, we have consistently called for an end to violence and urged all sides to initiate a broad-based dialogue, without pre-conditions. We Americans hold very close to our hearts the First Amendment to the U.S. Constitution, which protects freedom of speech," he said.
Peter Barlerin said freedom of speech should not give room to hate speech which some Cameroonians are advocating, "But we condemn hate speech and calls to violence such as that emanating from a very tiny minority of Cameroonian-born individuals living in the United States.
The fact is, whether they agree with the government here or not, and many of them do not, the vast majority of the Cameroonian Diaspora living in the United States – Anglophone or Francophone – are peaceful. They are incredibly constructive and proud members of society. And we value – I personally value – their contributions," he told the crowd.
His statement has not been diluted by the "tiny minority" he referred to. Many activists have also condemned his views, concluding that the US is an accomplice to the killing of Anglophones by military.
The calls were made by the Communication Secretary of Ambazonia interim government, Chris Anu and a Journalist based in the US, Eric Tataw. While the latter laid emphasis on the trial of Mancho Bibixy and six others, the former spoke on behalf of the government insisting that it was a firm dedcision taken.
Auteur: