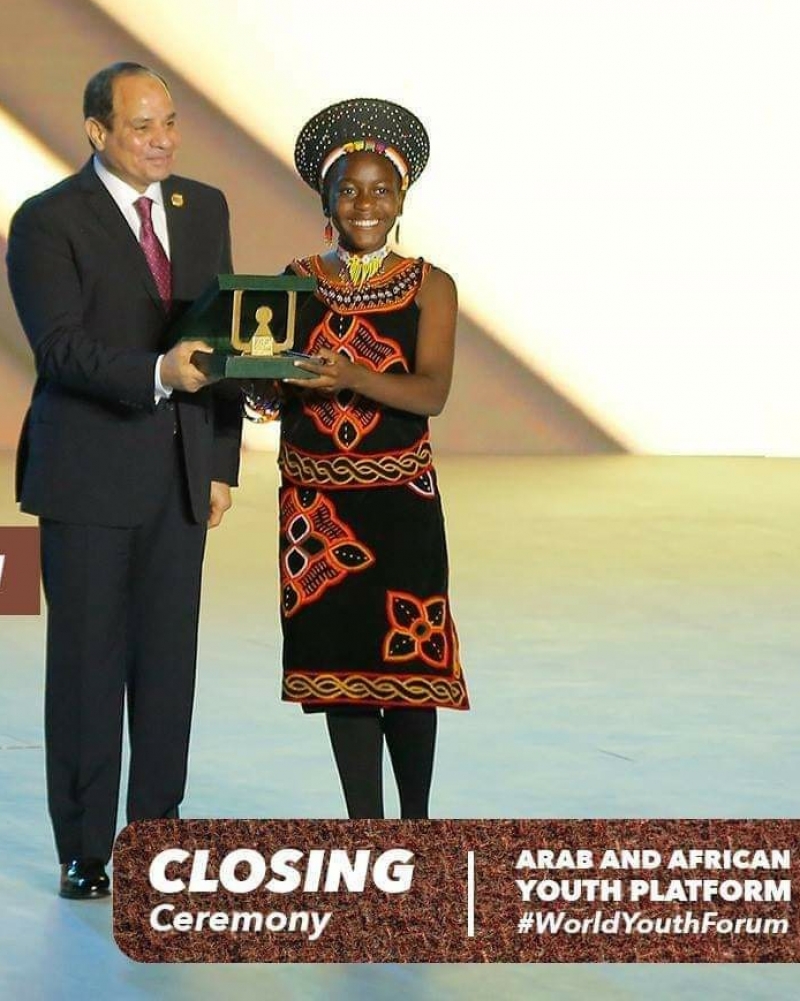 Young writer, teacher, TV host, Motivational Speaker Stacey Fru has been recognised as the Most Influential and Promising youth in the Arab and African regions, in a ceremony that took place in Aswan, Egypt.
It was during the closure of the Arab and African Youth Forum, that took place between the 16-18 March, that young Stacey was singled out amongst 14 contestants, as the most influential youths.
Her award was handed over in Aswan, by Egyptian President, Abdelfattah El-Sisi.
" It's been a really really great and overwhelming experience for me. I think all those who supported me so far because, it has been a very wonderful journey, which has really helped and boosted my confidence. It has also inspired me, to do more and more good work", remarked little Stacey, after receiving her award from Egyptian President.
Her name is Stacey Fru, daughter of Victorine Mbong Shu and Dr. Emmanuel Fru. Born on the 16th of February 2007 in Johannesburg, South Africa, where she runs her own foundation, Stacey wrote her first book, "Smelly Cats", at the age of 7, without the knowledge of her parents.
Today, Stacey is a Bestselling Multiple Award-Winning Child Author of 3 books, a philanthropist, Activist, a Public Speaker. Her book, "Smelly Cats", was approved by the South African Department of Basic Education as suitable for young learners from Early Childhood through to Primary Schools.
Her mother Victorian Mbong Shu ,another author, who accompanied her all along, says she always seek God's blessings on her daughter.
"Yes, I am proud of Stacey. I just cover her with the Blood of Jesus and hope that every single blessing showered on her way, translates into action", noted Stacey's mom.
"Smelly Cats", was published when Stacey was 8. She won 3 awards for this book and her other works, before her 2nd book "Bob and the Snake", was published.
Stacey's ambitions for the growth of the African child is extensive. She is a philanthropist and the youngest Ambassador for Save the Children.

With her foundation, Stacey constantly donates items like books, computers, clothing and food Her major concern for children are evident in her writings and her talks themed on illiteracy, poverty/inequality, religion, safety and security, respect, love, family and friendship.

The Arab and African Youth platform, is a recommendation of the World Youth Forum, which seeks to engage youths from all parts of the world, and connect them to top policy makers, with a goal to make the world a better place.

Auteur: