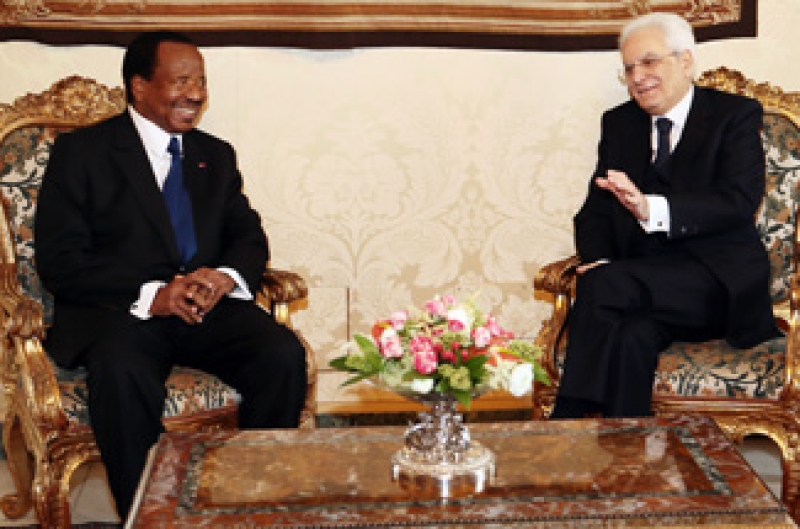 Cameroons Head of State, Paul Biya, has told the Italian President Sergio Matterella that despite ongoing crisis in the two English speaking regions of Cameroon, most Cameroonians love to live together.
The President was speaking on day one of his three day State visit to Italy where he is meeting his Italian counterpart to discuss bilateral ties between the two countries.
President Paul Biya said the government is already engaging in dialogue to break the deadlock in the current crisis but insisted that the Government is only doing so within the ambit of the Constitution.
During his speech, Paul Biya also talked of acts of terrorism, illegal immigration, durable development and climate change. To him, the bilateral ties enjoyed by Cameroon and Italy could greatly change the situation in favor of peace and unity.
The President is being accompanied in his mission by:
The Minister of External Relations,Le Jeune Mbella Mbella
Minister of the Economy, Planning and Regional Development, Louis Paul Motaze, Minister of Public Works, Emmanuel Nganou Djoumessi, The Minister of Higher Education, Jacques Fame Ndongo, Ministers of Special Duties at the Presidency of the Republic; Hamadou Moustapha and Victor Arrey Mengot
Minister Delegate in charge of the Budget at the Ministry of Finance, Elung Paul Che, Deputy Director of the Civil Cabinet, Joseph LE,Special Advisers; Luc Sindjoun and Joseph Fouda.
By Wilson MUSA
Auteur:

Wilson MUSA
contact@cameroon-info.net
@t_b_d