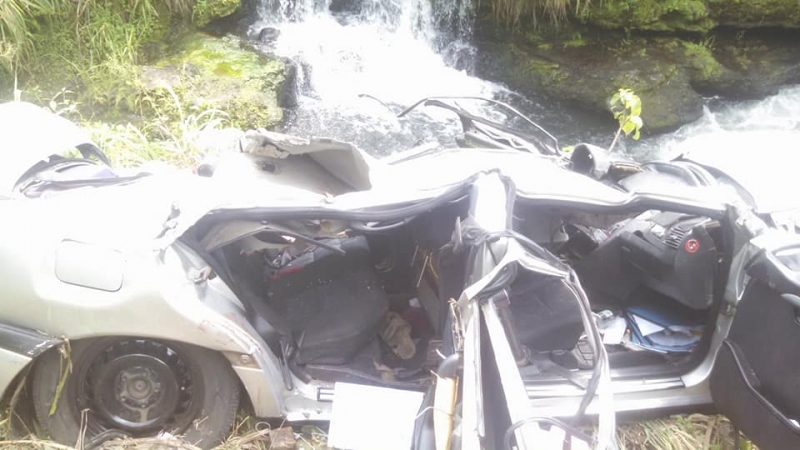 Three workers of the Buea Council in the South West region are among the five men who died in a fatal road accident Sunday April 15, 2018 around the Ombe Bridge. The five were returning from a birthday which held in Limbe before their journey ended at the Ombe Bridge.
Reports say Elvis Ekongolo, Ngou David Wotany and Anyi Che Eugene, and two others were on top speed when they experienced brake failure at the bridge and despite efforts to deviate from an oncoming vehicle, their car flipped over the bridge.
The first two, are said to be relatives to the Mayor of Buea Patrick Ekema.
The Communication Officer at the Buea Council, Oscar Musonge, said the victims went to Limbe Saturday April 14, 2018 to celebrate the birthday of the wife of Anyi Che Eugene, market master of Muea market in Buea. Upon returning from the birthday party Sunday afternoon to Buea, they were about 10 in two different vehicles.
The wife of Anyi Eugene whose birthday was celebrated was in another car. Elvis Ekongolo was market master at Buea Central market, Anyi Che Eugene, market master of Muea market in Buea, while Ngou David Wotany was Tax Clerk at the Beua Council, the former and latter, brothers of the Mayor.
Newspaper reports reveal that Ngou David Wotany, Tax Clerk at the Beua Council was returning to Buea to also celebrate his birthday, April 15.
He died leaving behind his wife and a four months old daughter. No official statement has been made by the Council.