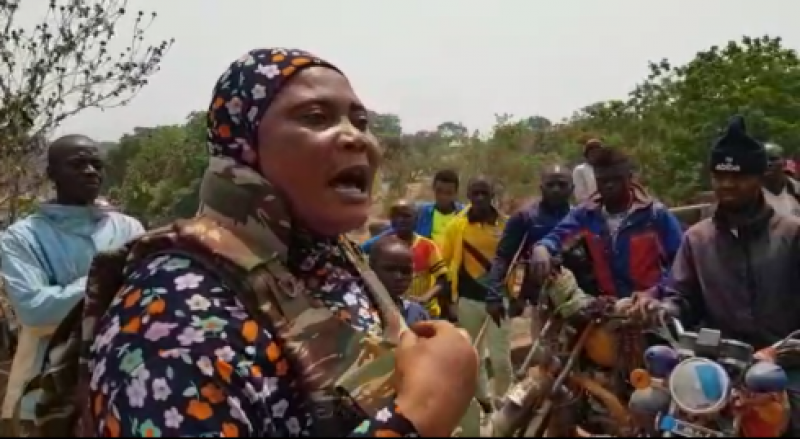 Hon. Ngah Estalla Tala, Member of Parliament for Nkum/Mbiame constituency has made a controversial speech in Mbiame calling on the population to rise against armed separatist fighters in the area.
In a video that hit social media on February 19, 2021, the Member of the National Assembly said, "There isn't any terrorist in Cameroon" and in another breath said, "There is a need to drive out terrorists from Mbiame".
Dressed in a bulletproof vest, the tough-talking lawmaker urged the people to conquer fear and confront armed separatists committing atrocities in Mbiame, Mbven Subdivision, Bui Division, North West Region of Cameroon.
"I want to tell you something. I am here on a mission from the government. We have nothing like terrorists in Cameroon. Cameroon is one and indivisible. Therefore, we are one. We can never separate this country," said Hon. Ngah, promising to attend to the development needs of the population. "So we are going to fix this road and we will drive away all the terrorists from our place."
"There will be no terrorist in Mbiame because that is the decision the government has taken. What we have in the bushes are thieves. They are not Ambazonia fighters. You should stop calling them Ambazonia fighters. They are thieves, terrorists. We have nothing to do with terrorists," Hon. Ngah said.
The MP for Nkum/Mbiame constituency continued her speech thus:
"So, we will arrange this road. I will take the message to the minister. They will arrange the entire road. Even before they arrange the road, I will try to fix that bridge. I will talk with my mayor so the council will see what to do and I will give my own support. We will fix that bridge at Saraka while waiting for the road to be fine. This will permit you to go about your businesses without any hitches.
"If any separatist fighter wants to harm any of you, the population should come out as one man and handle the situation. This is what other communities have been doing. Because if one separatist fighter is caught and you all do the needful, no separatist can come here.
"In Bamenda, when you walk from Up-Station to Bambili, you cannot see a separatist fighter because the population has rejected them. So, they are out to steal. The other week, they came out and caught our brothers, extorting money from them. They have been extorting huge sums of money from the population through kidnappings and other forms of thievery. Are those the people who say they want to fix this country?
"For the last 39 years with president Paul Biya in power, have you ever heard that he sent out the army to hold civilians and extort money from them? So, I have come to prove to you all that I am your parliamentarian. I stand for you all. I am not afraid of any amba fighter. If any amba wants to know me, they will know me. I am a woman of sterner stuff. I am with you. Clap your hands and know that I am with you always. We are going to fix this road from Foumban to Mbiame."