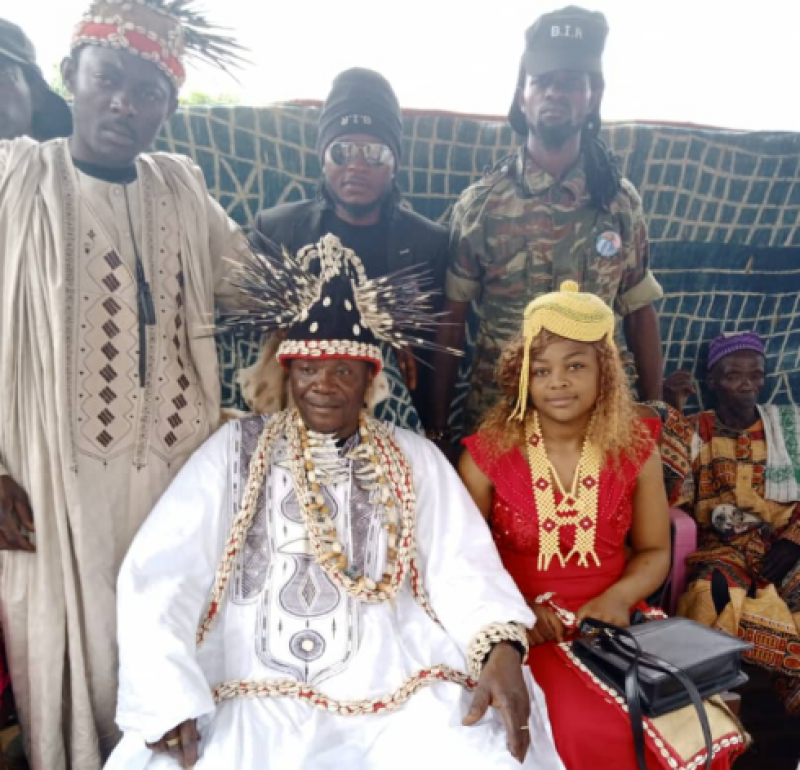 A commercial motorbike rider co-opted by armed separatist fighters in an operation that led to the killing of three traditional rulers on February 13, 2021, in Lebialem Division has shed light on the tragic incident.
In an interview aired on CRTV's flagship newsmagazine program Cameroon Calling, the native of Essoh-Attah village said gunmen killed the three traditional rulers at the behest of notorious separatist strongman Oliver Lekeaka alias Field Marshal.
Below are excerpts of the interview transcribed by Cameroon-Info.Net:-
Welcome to Yaounde and welcome to the CRTV. You are coming after an unfortunate incident which led to the death of three traditional rulers in Lebialem Division. What happened? What did you see, what did you hear?
Actually, what I want to say here is not what I heard. I am saying what I saw. I am speaking the truth and I will stand for that truth. That was on Saturday [February 1, 2021]. I had just returned from Dschang with my bike. I had just finished taking my bath when one guy [Titus] from our village, Essoh-Attah, came with a friend and asked me to come out of the house. When I got out and asked them what was going on, he said I will know when I get to the village square.
I asked them to allow me to put on proper clothes given that I only had my underwear on. They refused and I had to oblige. As we went, we met a lady named Mary. She said they lost two of their fighters in an attack at Mbinadou. She said Field Marshal was on his way and that we should stay at the village square and wait for him. After some few minutes, Titus said we should go and bring out Chief Benedict Fomin, who is his Godfather. They went to that Chief's palace. I heard a lot of noise there. Chief Fomin was beaten and dragged out. They brought him to the junction where we were waiting.
A few minutes later, the Field Marshal came. "Where is that Chief?" Field Marshall asked. When we showed him the chief, he said the chiefs are the ones betraying the struggle for Ambazonia independence. He said chiefs are the ones who voted in Menji during the December 6 Regional elections. "Today is judgment day. I am going to kill all of you, "Field Marshal said. That guy who came and took me told Field Marshal that I have a bike. He ordered that the bike be brought to him. When his fighters brought the bike to him, he said we are here feeling free and playing music when they are suffering in the bush. He said we cannot be enjoying life as though nothing is going on. He said we will see what he is going to do to us.
He asked me to transport him on my bike. He warned that if he falls down, then I am a dead man. He ordered that his boys should take all the youths in the area into captivity. He kidnapped all the youths, took them to a place called Foreke Down where he tied them up. All these started unfolded around 5 pm on that fateful Saturday, February 13, 2021.
Due to the delays caused by Field Marshal who was kidnapping people, the night fell on us. When we arrived Foreke Down, it was already around 7 o'clock. He insisted that "today is judgment day". At the home of Pa Nkemchap who owns a provision store, Field Marshal made a stop. He looted the provision store. After he had emptied the shop, he told the owner that he would not pay.
When we got to Foreke Down, he tied all the youths. The reason he did not tie me is that I was his rider at that moment. He asked Chief Benedict Fomin and Chief Simon Forzizong if they voted in the December 6 regional elections. They said they did not vote. They told him that they did not even go to Menji where the elections took place.
When they caught Chief Fonchenallah and found a voter's card in his pocket, he had no choice but to accept that he voted. When they brought Chief Fonchenallah to Foreke Down, I met him. Field Marshal asked him if he voted. He said yes. Field Marshal said he was not going to kill Chief Fonchenallah since he had told the truth. He asked Chief Fonchenallah if Chief Forzizong and Fomin also voted. Chief Fonchenallah said yes. Field Marshal then ordered his fighters to kill Chief Forzizong and Chief Fomin.
Field Marshal's second in command by the name Foncho [Ambrose Fontem], the one who got drunk and was captured by the military, said the chiefs should be beheaded and slaughtered. Field Marshal ordered that they should be shot and killed instead. They then asked who influenced them to go and vote in Menji. Chief Forzizong said it was the Fon. Asked who the Fon is, he said Chief Foreke.
Field Marshal ordered one of his soldiers named Thunder to go ahead and kill Chief Forzizong. He asked that he should be shot directly in the chest. Thunder hesitated, stating that the chiefs should be allowed to make further confessions. Field Marshal objected, saying that there is no confession in the grave.
The young man from our village named Titus, the one who was taking Field Marshal around and showing him where all the chiefs and youths are, said they should give him the gun so he can kill the chiefs. Field Marshal rejected his offer and rather ordered one of his fighters named 'Killer' to kill the chiefs. In my presence, Field Marshal asked Killer to shoot Chief Forzizong in the chest.
I heard the sound of the gun and that was all. When they killed Chief Forzizong, they jumped to their feet in celebration. They ordered us to clap. They were shouting: "Asawana… wana". Then they sang: "Amba no go tire, holy water dey." After a while, Field Marshal shouted, "Ceasefire!" and silence prevailed.
He turned to Chief Fomin and told him that he will be the next to die. I don't know how it happened that Chief Fomin was trying to escape. That boy from our village dragged him back and tied him. He blindfolded him. Field Marshal ordered that chief Fomin should be killed. Chief Fualeasuoh was brought to the scene moments after the killing of Chief Fomin.
Asked if he voted, Chief Fualeasuoh was still to talk when Field Marshal turned to Chief Fonchenallah to ask if Chief Fualeasuoh voted. Fonchenallah answered in the affirmative. Field Marshal ordered his fighters to immediately kill Chief Fualeasuoh. Chief Fualeasuoh was shot and killed.
Field Marshal then sought to know from Chief Fonchenallah if there was another chief who voted on December 6, 2020, and who can be got that night. Chief Fonchenallah called the name of Chief Fuambeh. Field Marshal ordered me to take Thunder to chief Fuambeh's palace.
He said if they try to run, they should be shot. I rode Thunder on my bike to Chief Fuambeh's palace. We met the Chief in his palace. I called him out. I told him to forgive me for bringing a separatist fighter to his house. I told him to join me and convince Field Marshal's fighter to allow him to escape. I told him that Field Marshal had killed Chief Fomin, Forzizong, and Fualeasuoh and that he was next to die.
I pleaded on behalf of Chief Fuambeh. I said that we had lost three chiefs already in the same village and in the same area. I told Thunder that Chief Fuambeh's life was in his hands. I said if he left the chief, the chief will live to testify. Thunder had a pistol and an AK47 with him. When he tried to shoot with the pistol, the gun did not respond. After a lot of pleading, Thunder said that Chief should give him two million FCFA.
The Chief said he did not have money. After a while, Thunder asked Chief Fuambeh to take a few of his belongings and leave the village. He said Chief Fuambeh should never mention that he saved him, lest his palace will be burnt. Chief Fuambeh took some of his belongings and ran away. I then thanked the armed fighter. Thunder went ahead to destroy the door to the Chief's house. He later told Field Marshal that before we got to the palace, Chief Fuambeh had escaped.
Field Marshal ordered that the corpses of the murdered chiefs be dumped in a nearby river. He warned that no one should touch the bodies. When they were carrying the bodies, I escaped. Field Marshal had warned that anyone trying to escape should be shot. I do not know how God made my escape from that place.
I thank God that I was not tied like the others since I was riding Field Marshal. He was using me to run errands for him. I escaped into the forest and trekked to where I could be connected to network. There is only one place in that forest where one can make a phone call. When I got to where I could make a phone call, I called those whose parents had been killed. I said Field Marshal was in Foreke Down killing people and had a mission to continue with the killings the next day. He had planned to kill his targets and burn their property.
Therefore, I informed that even if it means the military should come by helicopter to Foreke Down, let them come and rescue the people who were to be killed the next morning. Field Marshal did not kill Fonchenallah because Fonchenallah was saying the truth and he wanted Fonchenallah to help him confirm all the chiefs that voted in Menji. I know Field Marshal's aim was to kill Fonchenallah at the end of the day.
When did the military get there?
These chiefs were being killed at 8 o'clock and the military arrived at 4 am the next day. I was not there when the military arrived because I was in that forest making a call. I do not know how the military found their way to the place. However, I informed them that they should come and rescue those people, especially the youths who had been kidnapped and tied. When the military got to Foreke Down at 4 am on Sunday, February 14, 2021, they rescued those who had been tied up.
The person who killed those Chiefs is Field Marshal and not the military. If he is refusing, they captured two of his fighters with guns. In addition, Field Marshal's second in command is in military custody. The military also interviewed the villagers who told them the same thing that I am saying here. Therefore, Field Marshal is the one who killed those chiefs.
How do you feel now?
Since this incident happened, I have not been able to sleep. I trekked for four days, three days in the forest before I could arrive at a point where I could be saved. They did everything to kill me because they know that I know the truth. Fortunately, God guided me for a day like this, that I will testify to people. I am out for the truth.