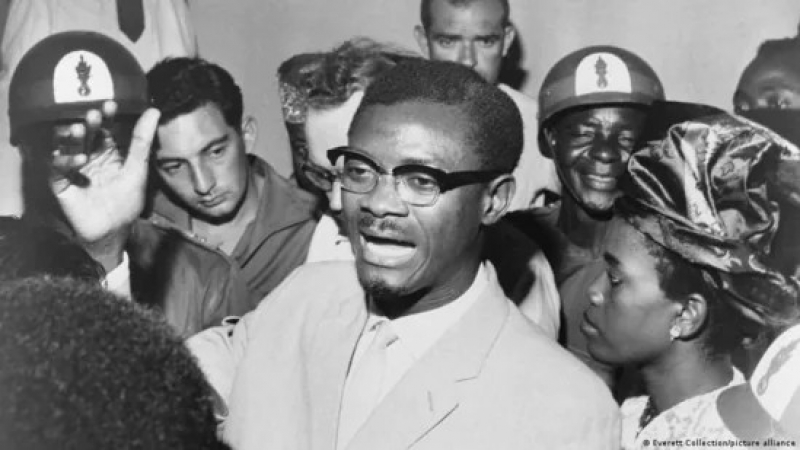 Anniversary is 1st since Lumumba's remains were returned last year from Belgium
KIGALI, Rwanda (AA) - The Congo commemorated Tuesday the 62nd anniversary of the assassination of Patrice Emery Lumumba, the country's first prime minister.
The ceremony at a mausoleum in the national capital of Kinshasa was presided over by Prime Minister Jean-Michel Sama Lukonde, the first anniversary marked by the Congolese since Lumumba's remains were returned from Belgium last year, more than 61 years after his assassination.
In attendance were government officials, members of the Lumumba family and other dignitaries.
Lukonde paid tribute to the nation's independence hero before leading government officials in laying a wreath at his mausoleum.
"Nations of the world must remember great men who have marked their history through their struggle," said Lukonde.
He hailed Lumumba for a fight that he said helped get the country out of colonization.
"Here is an opportunity to pay tribute to Patrice Emery Lumumba, the first time after his remains were returned. Today, we honor him and a lay wreath to pay tribute to him now that he is at home here in the Democratic Republic of Congo," he said.
Lumumba was an anti-colonial icon at the time Congo acquired independence from Belgium on June 30, 1960.
He was toppled in September of that year and separatists from the southern region of Katanga and Belgian mercenaries executed him Jan. 17, 1961. They dissolved his body in acid.
Lumumba's remains were discovered decades later in Belgium, after a police officer, who took part in his assassination, boasted about his actions in the media.
Belgian authorities would eventually seize a tooth from the officer in 2016.
During a handover ceremony of the remains in Brussels, Belgian Prime Minister Alexander De Croo apologized for his country's "moral responsibility" in Lumumba's death.
Belgium's King Philippe also expressed his "deepest regrets for the wounds" of Belgian colonial rule.
Lumumba was born in 1925 in Onalua, in Sankuru province.
James Tasamba/AA