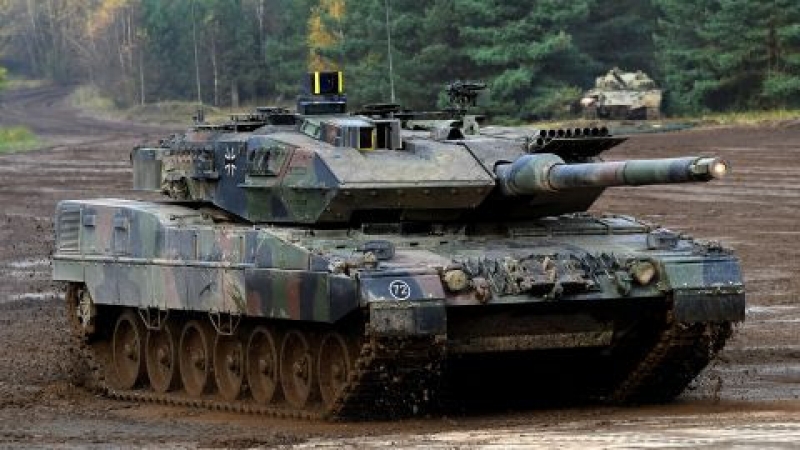 C'est ce qui ressort d'une déclaration du porte-parole de la Présidence russe commentant la décision d'envoi de chars en Ukraine par quelques pays occidentaux
Le porte-parole du Kremlin (Présidence russe), Dmitri Peskov, a déclaré que son pays considère l'envoi d'armes, y compris des chars, par les États-Unis et les pays européens à l'Ukraine comme une "implication directe dans le conflit".
C'est ce qui ressort d'une déclaration accordée à la presse dans la capitale russe, Moscou, dans laquelle il a commenté la décision de certains pays occidentaux, les États-Unis et l'Allemagne en tête, d'envoyer des chars en Ukraine.
"De nombreuses déclarations ont été faites par les capitales européennes et Washington, selon lesquelles l'envoi de divers systèmes d'armes, y compris des chars, en Ukraine ne signifie en aucun cas l'implication de ces pays ou de l'OTAN dans le conflit en Ukraine. Nous ne sommes absolument pas d'accord avec cela", a déclaré Peskov.
L'envoi de la cargaison en question signifie, pour lui, une implication directe dans le conflit en Ukraine, ajoutant : "Nous considérons tout ce que l'OTAN et les pays concernés font comme une participation directe au conflit".
Auparavant, le chancelier allemand Olaf Scholz avait annoncé que son pays avait décidé d'envoyer des chars Leopard 2 en Ukraine, tandis que le président américain Joe Biden avait décidé de lui livrer 31 chars Abrams.
AA/Moscou
Moscow calls tanks deliveries to Ukraine 'direct involvement' of European countries, NATO in 'conflict'
Kremlin spokesman Dmitry Peskov says 'involvement' of European, NATO countries in 'conflict' in Ukraine is 'growing'
MOSCOW (AA) - Raising the specter of escalation of the Ukraine war, a Kremlin spokesman said Thursday that Russia sees European and NATO countries supplying weapons to Ukraine – including a host of just-announced tank supplies – as their "direct involvement" in the "conflict."
"Statements are constantly being made from European capitals and Washington that sending various weapons systems, including tanks, to Ukraine in no case means that these countries or the alliance are involved in the fighting that is taking place in Ukraine. We categorically disagree with this," Dmitry Peskov told a press briefing in Moscow.
"In Moscow, everything that the alliance and the capitals I mentioned are doing is perceived as direct involvement in the conflict," he explained.
He added that Moscow noted that this involvement has been growing.
The US announced on Wednesday that it will send Abrams tanks to Ukraine, while Germany, Spain, and Norway said they will supply heavy Leopard 2 tanks to Kyiv.
Ukraine has been pressing for the tanks for some time, along with other weapons, arguing that they are needed to fight off an expected Russian offensive this spring.
However, Russia does not plan to change the status of "special military operation" following the decision on tank deliveries, Peskov said.
The spokesman confirmed that Russian President Vladimir Putin had a conversation with German businessman Matthias Warnig, managing director of Nord Stream AG company, after the beginning of the "special military operation," but did not give any details on what topics were discussed at the meeting.
Warnig said in an interview with the German Die Zeit newspaper that he tried to persuade Putin to stop fighting in Ukraine.
Commenting on the statement by Ukraine's President Volodymyr Zelenskyy, who said he is not interested in contacts with Putin, Peskov said: "He (Zelenskyy) himself has long ceased to be a possible counterpart (for discussions) with President Putin."
"We know with what promises Zelenskyy was elected president... He did not solve the problem of Donbass, he did not fulfill the Minsk agreements, moreover, as it turned out, he was not going to fulfill them, he was preparing for war," Peskov added.
In October 2022, Zelenskyy approved the law, prohibiting peace talks with Russia while Vladimir Putin serves as its president.
In a separate statement, Secretary of the Russian Security Council Nikolay Patrushev echoed Peskov, saying, "events in Ukraine are a result of the US long-term preparation for a hybrid war" against Russia.
"Now Western countries are waging a campaign against Russia using the puppet Kyiv regime," Patrushev said.
According to him, even when the war in Ukraine is over, "the Anglo-Saxon world will not stop the proxy war against Russia and its allies."
Elena Teslova/AA