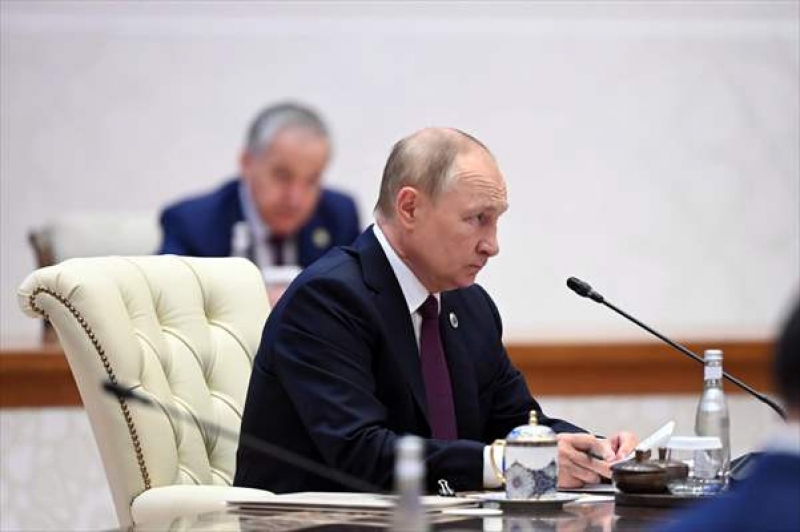 Russia's main goal is 'liberation' of Donbas, but 'operation' will not stop there, says Russian president
ANKARA (AA) - Russia is responding with restraint to Ukrainian "terrorist attacks" and strikes on infrastructure, President Vladimir Putin said Friday.
Addressing a news conference following the sideline meetings of the Shanghai Cooperation Organisation (SCO) summit in Samarkand, Uzbekistan, he said the main goal of Russia's "special operation" is the liberation of Donbas region in eastern Ukraine.
Russia is in no hurry and its operation will not stop, despite Ukrainian attempts to launch a counteroffensive, he said.
"Quite recently, the Russian Armed Forces launched a couple of sensitive strikes (in Ukraine). Let's assume this was just a warning. If the situation prevails, the response could be more serious," he added.
"We are not fighting with a full army. We fight only with a part of the Russian army, a contract-based part (only)," he said.
He underlined that Russia launched the war in Ukraine to prevent the creation of an "anti-Russian enclave" in Ukraine.
Putin also confirmed that Russia will take part in the G20 summit.
Russia's war on Ukraine on Feb. 24 has resulted in sanctions on Moscow from the EU, the UK and the US among other Western nations.
Ceyhun Alizade/AA
.
Putin says Russia wants to stop 'conflict' in Ukraine. Russian president regrets that Ukraine's leadership refuses peace talks

MOSCOW (AA) – Russian President Vladimir Putin said on Friday that Moscow will do everything to stop the "conflict" in Ukraine.
Speaking at a meeting with Indian Prime Minister Narendra Modi in Samarkand, Uzbekistan on the sidelines of the Shanghai Cooperation Organization (SCO) summit, Putin said to his regret, the Ukrainian side refused talks.
"I know your position on the conflict in Ukraine, your concerns that you constantly express. We will do everything to stop this as soon as possible. Only, unfortunately, the opposing side, the leadership of Ukraine, announced its refusal from the negotiation process, stated that it wants to achieve its goals by military means, as they say 'on the battlefield.'
"Nevertheless, we will always keep you informed of what is happening there," he added.
- Russia, India relations
On the bilateral ties between Russia and India, Putin said they are developing, and the two countries are also working actively in the SCO and interacting on other international platforms.
Deliveries of the Russian fertilizers to India increased eight times, Putin said, adding that he hopes it will help India solve its food problems.
"Large-scale joint projects in the oil and gas sector and in the nuclear power industry are being consistently implemented. Traditionally, the rich history and ancient culture of India are of great interest to Russians, in this regard, we propose to intensify the negotiation process on an agreement on visa-free tourist trips," he said.
For his part, Modi said issues of food, energy security and accessibility of fertilizers cause serious concern among the developing countries.
"There is no doubt that we need to find a solution to all these issues, and, in particular, we both need to take initiatives in this direction," he suggested.
Modi thanked both Russia and Ukraine for the help in evacuation of Indian students from the conflict zone and urged peace.
"I know that this is not the era of wars. We have repeatedly talked about this, in particular in our phone conversations. Democracy, diplomacy, and dialogue are important tools for us to find solutions.
"It is necessary to achieve peace in the future, and I am sure that we have the opportunity to discuss this. I welcome the opportunity to get to know your point of view more closely," he said.
Modi confirmed that the India-Russia relations significantly improved in recent years, adding that "everything tells us that our relations will only improve and strengthen in the future, and it is also be useful for the whole world."
By Elena Teslova/AA
.