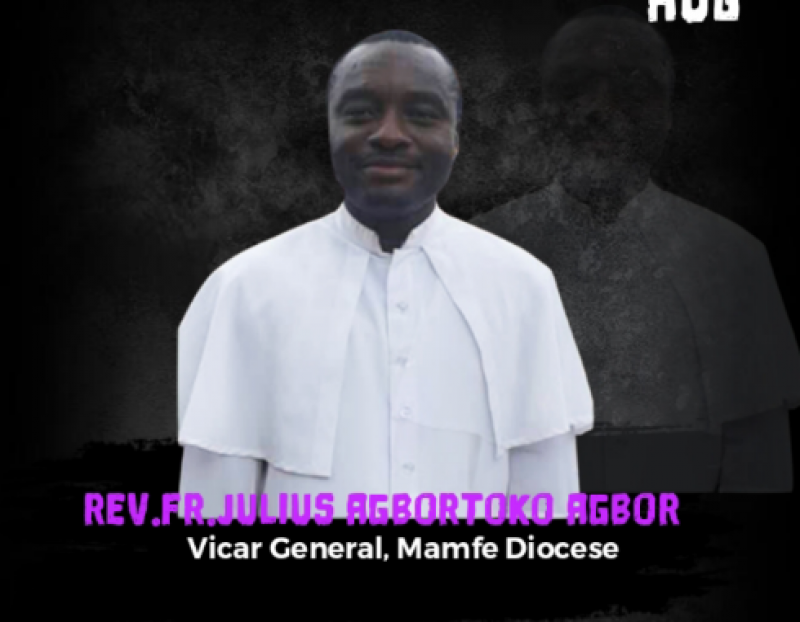 Armed kidnappers have freed the Vicar General of the Mamfe Diocese of the Roman Catholic Church, Mgr. Julus Agbortoko two days after he was kidnapped.
The prelate was freed on the evening of Tuesday, August 31, 2021, open sources say.
In a statement Monday, 30 August 2021, Fr. Sebastiné Sinju, Chancellor of the Mamfe Diocese said the Vicar General had just returned from a weekend pastoral visitation at the time he was abducted.
"It is with a very heavy heart that I bring to your notice the sudden abduction of the Mgr. Julius Agbortoko yesterday Sunday, 29 August 2021. The Vicar General, who had spent the weekend at Kokobuma for pastoral visitation and the inauguration of the presbytery of the parish, drove in yesterday at about a few minutes to 6 pm, "said Fr. Sebastiné Sinju, Chancellor of the Mamfe Diocese. "About 30 minutes after his arrival some youngmen who identified themselves as separatist fighters bumped into the Major Seminary compound and made their way straight to the residence of Bishop Lysinge. While there, they noticed the presence of the Vicar General whom they considered younger and stronger than the frail Bishop emeritus. "
Bro. Sebastiné Sinju says the said boys made off with Mgr. Julius Agbortoko at about 6:45 pm and are now asking a 20 million CFA francs ransom.
"I call on all of you to invoke the One Family Spirit and pray unanimously for his safety and his subsequent release. I use this opportunity to decry the seemingly incessant attacks on the Church in general and that of Mamfe in Particular. Could the stakeholders of the ongoing armed conflict kindly hands off the Church, for God's sake, "Fr. Sebastiné Sinju pleaded, asking Mary, the Mother of Priests, and the Queen of Peace to intercede.
On Tuesday evening, a message from the Chancellor read: "Good evening Fathers. We are happy to bring you the news that Mgr Julius Agbortoko has been released. Thank you all for your prayers and for standing by us. We are united in prayers. "
Rev. Fr. Sinju said the Vicar General was released without payment of the FCFA 20 million ransom demanded by the kidnappers.
"After three days in captivity, we are glad to announce that our brother and priest, Mgr. Julius Agbortoko Agbor has been released without any ransom paid," said Rev. Fr. Sinju.