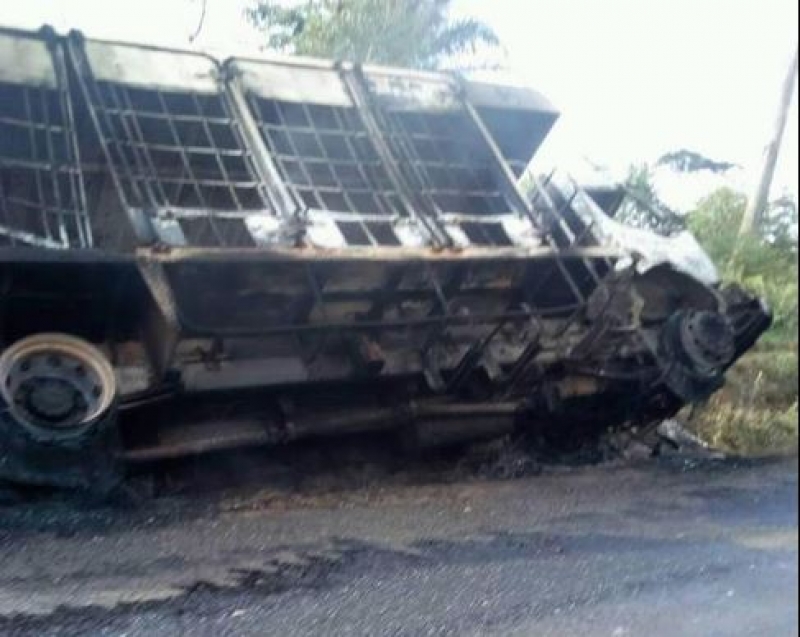 Some men suspected to be Separatist fighters have burnt to ashes a truck transporting brewery products around Ngyenmbo, In Momo division, Norht West region of Cameroon, late Tuesday May 22, 2018. They attacked the truck on its way to Bamenda, before setting it ablaze.
Reports say truck belonged to a brewery company called Les Brasseries Du Cameroun, SABC and was on its way to Bamenda from Mbengwi, when the men suddenly came out of the bush around Evil Forest.
It is suspected Ambazonia fighters carried out the attack because they have lately been against the sales of Brasseries products in the two regions.
The truck a worker at Brasseries has revealed, does not belong to the company, he says they belong to individuals who will be the ones to suffer the effects, He said, "Just to clear some ignorance, those trucks out there are not owned by Brasseries, they belong to contractors. There are female contractors in Bamenda if you attack or burn it Brasseries has no immediate loss and secondly, Brasseries is not a government owned company as many argue."
Elsewhere in the south west region, military razed house to ground level in Banga Bakundu in Mbonge subdivision, Meme Division, South West region of Cameroon.
Banga Bakundu is the commercial centre of the Subdivision but has been reduced to a small village following repeated military arson attacks on houses and properties.
Military also burnt hoses in Ngolo Bolo and Konye Monday May 21, 2018. The same acts were repeated in Kake, leaving many to flee into bushes.
Auteur: