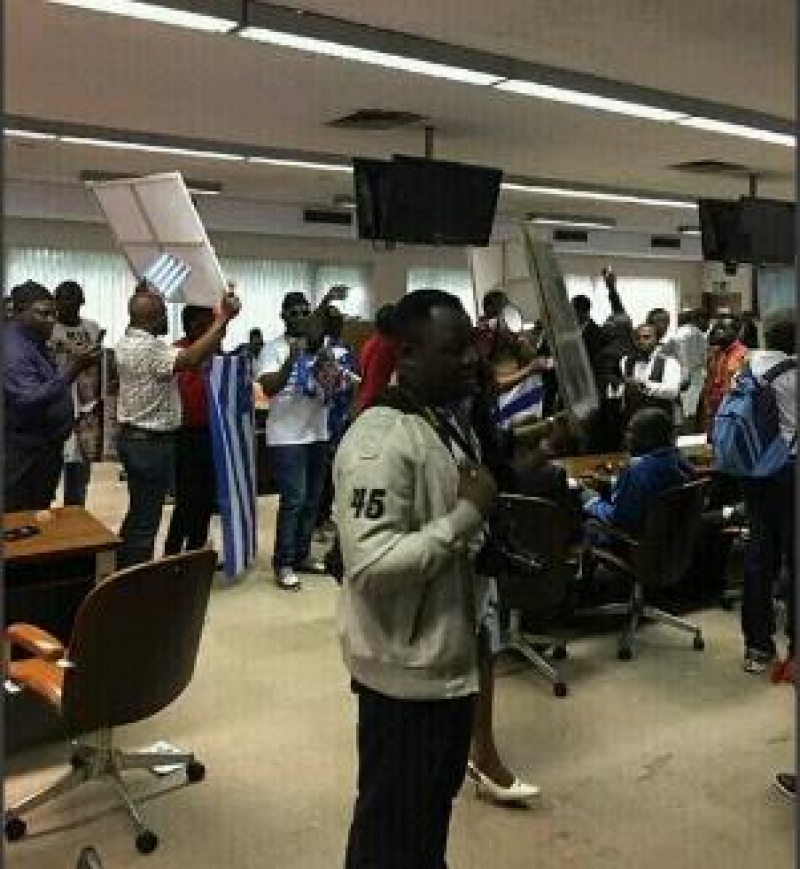 Cameroonians in Belgium invaded the hall of the planned meeting scheduled by head of the delegation, Justice Minister LAURENT ESSO, he appeared to look very helpless. The main objective of the meeting was to meet Cameroonians to explain what is happening in the North West and South West Regions.
Many Cameroonians believed that the ideal place for dialogue was in Cameroon and not in Belgium. Most Cameroonians in Belgium considered this move as a waste of their precious time,those who created time to be there protested and requested the Minister to go back to Cameroon, dialogue with the jailed Leaders and resume schools in the two regions.
The meeting which was supposed to start at 3pm failed to start as Cameroonians took the hall hostage, singing, brandishing placards. However, the Belgian police unit were called, who escorted the scally Cameroonians in front of the hall where the protest continued. Other Cameroonians who had come in from other parts of Europe and France remained in the hall.
The situation in USA was different, Paul Ghogomo delegation in USA had a much more peaceful turnout which went successfully without any bullying and rowdy behaviour from Cameroonians in USA.Though a participant who attended the meeting said information circulated hiddenly.
He said,It Started 2hours late from schedule and lasted for about 2hours . Most of those who attended were embassy staff. The second group was made of the CPDM elites in the USA.
The meeting could be partitioned as follows . The Cameroun Ambassador to the USA Ambassador Etoundi Essomba took 10mins to welcome everyone and praises government's commitment to solving the crisis and then gave the floor to the head of the committee , Prof Paul Ghohomou who took about 20 minutes to explain all his trips to Bamenda and meetings with the consortium and outcomes, then a series of questions.
Auteur: