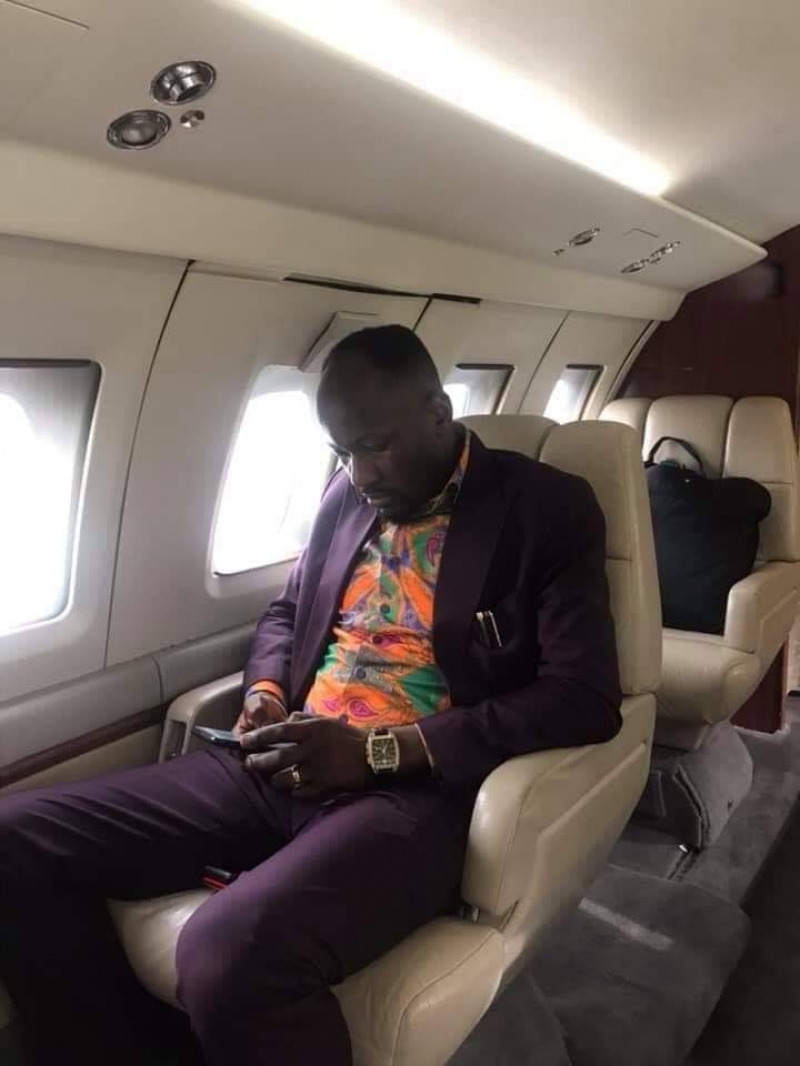 Pictures have since emerged showing the General Overseer of Omega Fire Ministries International, Apostle Johnson Suleman, in a private jet he recently acquired.
Omega Fire Ministry Dubai Facebook page also published pictures and a video of the fiery preacher inside his newly purchased jet.

The post reads in part: "Join us as we congratulate our father, the restoration apostle, God's general, God's own oracle, a dispensation of our time, the lion of Africa, Apostle Prof. Johnson Suleman on his brand new private jet for the propagation of the gospel of Christ to nations of the world with his undiluted word of power, signs, wonders, deliverance, healing and restoration and the prophetic. (Mark 16:14 – 18; Luke 4:17 – 23)."

Suleman, by this feat, has joined the club of Nigerian pastors who own private jets in the likes of the General Overseer of the Redeemed Christian Church of God, Pastor Enoch Adeboye; Senior Pastor of Word of Life Bible Church, Ayo Oritsejafor; and presiding Bishop of the Faith Tabernacle (Winners' Chapel), Bishop David Oyedepo.
On its maiden trip, the jet was used to fly Apostle Suleman to Enugu yesterday for the Open Heaven Crusade.
It may be recalled that, in January 2018, Suleman had urged the rich to focus on helping the poor rather than buying expensive cars and private jets.

He had preached that wealth was measured by the number of lives one has touched and not by one's material possessions.

"A man who pays the school fees consistently for seven people is richer than the man who has a private jet," the apostle had preached.
Continuing, he said, "Wealth is not the cars you buy; it is not the private jets you buy. Your wealth is the life you have affected.

"You are not termed successful because you have money. Your success in life is a function of how many people who have become successful through your success.

"Success without affecting others is a failure in disguise.
"How many of you are rich? You are a rich person. You are not rich because you have Jesus. You are not rich because you have Christ. You are not rich because Christ didn't promise you riches, by receiving him, you become rich; he didn't promise you that.

"You are rich because somebody is living because of you. You are rich by how many lives you have affected."
Today, tongues are wagging as to how a man who days ago abhorred preachers who engage in ostentatious lives will today join the queue.
Poverty and suffering remain endemic in Africa and many turn to religious leaders for succour. But many have argued that these preachers feed fat from even the little that the masses have.
Emmanuel Yenshu Vubo, Professor of Sociology at the University of Buea, Cameroon says pentecostalism has proven to be more dangerous than terrorism.
Auteur: