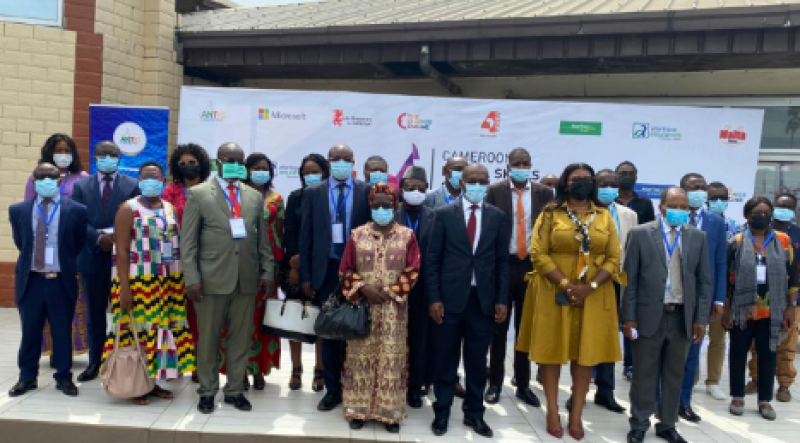 The third edition of the Cameroon Digital Skill Campaign opened in Limbe Wednesday, April 21 and will end on Friday, April 23, 2021.
The campaign which seeks to promote youth employability and entrepreneurship in the digital age is organised by The Cameroon National Agency for Information and Communication Technologies (ANTIC) and The Change Engine.
Due to exigencies imposed by the COVID-19, the Director General of ANTIC, Professor Ebot Ebot Enaw said the 3-day Cameroon Digital Skills Campaign 2021 had participants in five conference locations linked seamlessly by technology.
At least 200 young people between the ages of 18 and 30 and no fewer than 50 leaders from Government, Industry, Civil Society, and Academia were part of the campaign dubbed, "Digital Skills for Youth Employability and Entrepreneurship in the Post-Covid Technology Driven Economy."
COVID-19: Catalyst for Digital Transformation
According to Professor Ebot Ebot Enaw, the COVID-19 pandemic has turned out to be the single most effective catalyst for Digital Transformation.
He regrets that many hold that 'Africa is not ready' for digital transformation.
"For a very long time, we as Africans have either entertained or promoted the school of thought that technology was a luxury – a luxury that Africa could not afford, a luxury that Africa was too poor, or way too underdeveloped to pursue," said Professor Ebot Ebot Enaw.
He says today, COVID-19 has given everyone the chance to experience first-hand the power of technology.
His words: "Digital technology has enabled the continuation of work, education and communication. Technology turned out to be the deciding factor between students who were able to continue learning during the lockdown and students who were completely shut-off, companies who were able to continue running their operations and companies who had to shut down, as well as patients who were able to receive medical attention and those who, unfortunately, remained cut-off."
"Today, the COVID-19 pandemic has shown that technology was never the goal, it was never the final objective. Technology is simply a tool, a means to an end, an accelerator and a catalyst," he furthered.
The Director General of ANTIC recalled President Paul Biya's December 31, 2015 speech in which he said, "…the digital economy is a genuine growth driver as well as a niche for new jobs for our youth."
Professor Ebot Ebot Enaw is of the informed opinion that "today, digital transformation has the ability to help Cameroon leapfrog many of her development challenges."
Cameroon Digital Skills Campaign
Professor Ebot Ebot Enaw says ANTIC and The Change Engine organised the third edition of the Cameroon Digital Skills Campaign in order to harness the benefits of existing and emerging technologies, innovate out of the box strategies that must be devised for the promotion of youth employability and entrepreneurship.
"It is also important to ensure that all training and capacity building solutions be informed by high level debates between key players in Government, Education, Industry and Civil Society," said ANTIC's Director-General. "The development of digital skills is a primordial part of the economic empowerment and development of a nation. Digital skills are indispensible for the development of a tech-savvy workforce, able to support increased technology adoption and innovation and enable investments in high value-added services."
The primary objective of Cameroon Digital Skills Campaign 2021 is to empower young people with highly sought after digital skills as well as internationally recognised professional training and certification.
"By the end of this edition, one hundred young people would have been empowered, free of charge, with upper tier digital skills and professional certification by Microsoft and Microsoft 4Afrika. These young people will receive the following Microsoft Professional Certifications: Azure Security Engineer Associate; Azure Data Scientist Associate; and Azure Developer Associate," said ANTIC's Director-General Professor Ebot Ebot Enaw.
He emphasized the importance of multi-stakeholder partnerships. "I am convinced that UNSDG17 – 'Partnerships for the Goals' if properly implemented, has the potential to accelerate the realisation of all the other sixteen United Nations Sustainable Development Goals."
Professor Ebot Ebot Enaw adds that: "The digital ecosystem for economic development and growth is complex with interdependent technical, social and business relationships. The Cameroon Digital Skills Campaign serves as a catalyst for mobilising and securing commitments from key players and stakeholders within the digital economy, to build a strong and joint national momentum towards Digital Ecosystem Architecture for a fully digitally included Cameroon. The youth are key to creating a new path for societal and economic advancement in our country and we all; Government, Private Sector, Academia, and Civil Society, have a joint interest – and shared responsibility – in ensuring a healthy and well-educated future workforce.
"As illustrated by this partnership with the Change Engine and the support of Microsoft 4Afrika, and the different organisations present here to contribute to this great initiative; the Cameroonian government is open and willing to engage and work with stakeholders across the board to continue building a strong, thriving and prosperous Cameroon for all."
Helene Manyi Arrey, Founder of The Change Engine moderated the first high level panel discussion on the theme, "Walking the talk. A case study of industry-led skills development programs."