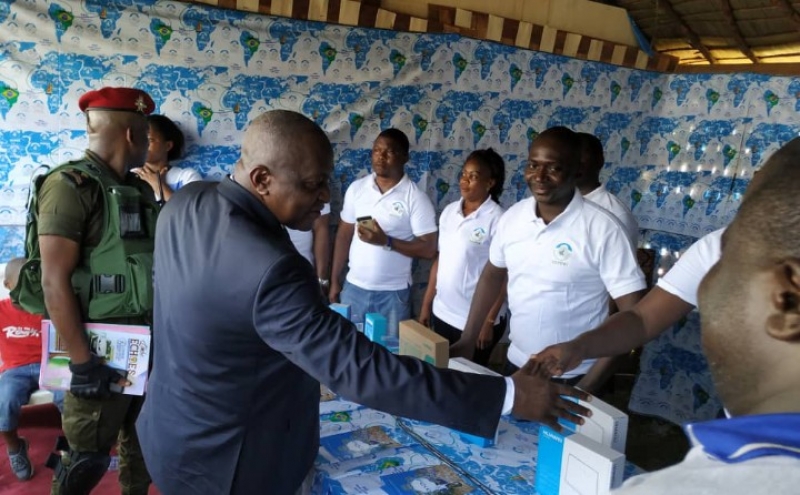 Cameroon Telecommunications (CAMTEL) is one of the top sponsors of the eight-day Limbe Festival of Arts and Culture (FESTAC) which opened at the Limbe Community Field Saturday April 6, 2019.
CAMTEL as a corporate citizen structure joined forces with the Limbe City Council to ensure FESTAC 2019's success.
According to Benedict Ndinwa, Sub-Director for Commercial and Corporate Communication at CAMTEL, the sponsorship of FESTAC 2019 is in line with CAMTEL's policy towards supporting initiatives that unite Cameroonians especially at this time when the country is facing threats to its unity.
"CAMTEL in its social responsibility efforts believes that she has to support all efforts geared towards keeping the nation and its people together. Ours is a mission to not only consolidate our country's unity, but also to rejuvenate the spirit of communion among Cameroonians as a people," Ndinwa told The SUN.
CAMTEL's Sub-Director for Commercial and Corporate Communication notes that arts and culture are powerful catalysts for cohesion, peace and socio-economic development, aspects which all necessitate the active participation of the company during the Limbe FESTAC 2019 event, as it focuses on promoting national integration in line with the cultural diversity of its staff and clients.
"Limbe FESTAC is a clear avenue to strengthen our bond as a people and celebrate our living together. Today, we are celebrating with people from the four cultural zones of the country – the Grassfields, Sawa, Sudano-Sahel and Fang Beti. This is proof of the fact that we identify ourselves in each other and we are committed to living together in oneness," Ndinwa furthers.
At the Limbe FESTAC 2019, Cameroon's cultural prowess is harnessed in one place.
Hardly could one move through the festival village, situated at the Limbe Community Field, without having a feel or catching a glimpse of CAMTEL. Indeed, CAMTEL has stamped her mark on every aspect: dressing over 3,000 participants at the Sports Walk, flying banners everywhere in the seaside resort, running a giant stand at the fair ground and dipping their hands deep into their purse to support this legendary vision championed by Motanga Andrew Monjimba, Government Delegate to the Limbe City Council.
By choosing to sponsor the Limbe FESTAC, CAMTEL and her General Manager, Judith Yah Sunday epse Achidi have remained true to CAMTEL's drive to ever stay close to the people. All through the festival, CAMTEL will offer free ultra-fast mobile Internet to visitors. CAMTEL will also dress finalists of the canoe race, thug of war and traditional wrestling competitions. Apart from these and more, CAMTEL is said to have coughed out a huge financial package as one of the main sponsors. Sources within the organising committee say they are very pleased with CAMTEL's promptness and are looking forward to a sustainable partnership with the country's incumbent telecom operator.
Auteur: