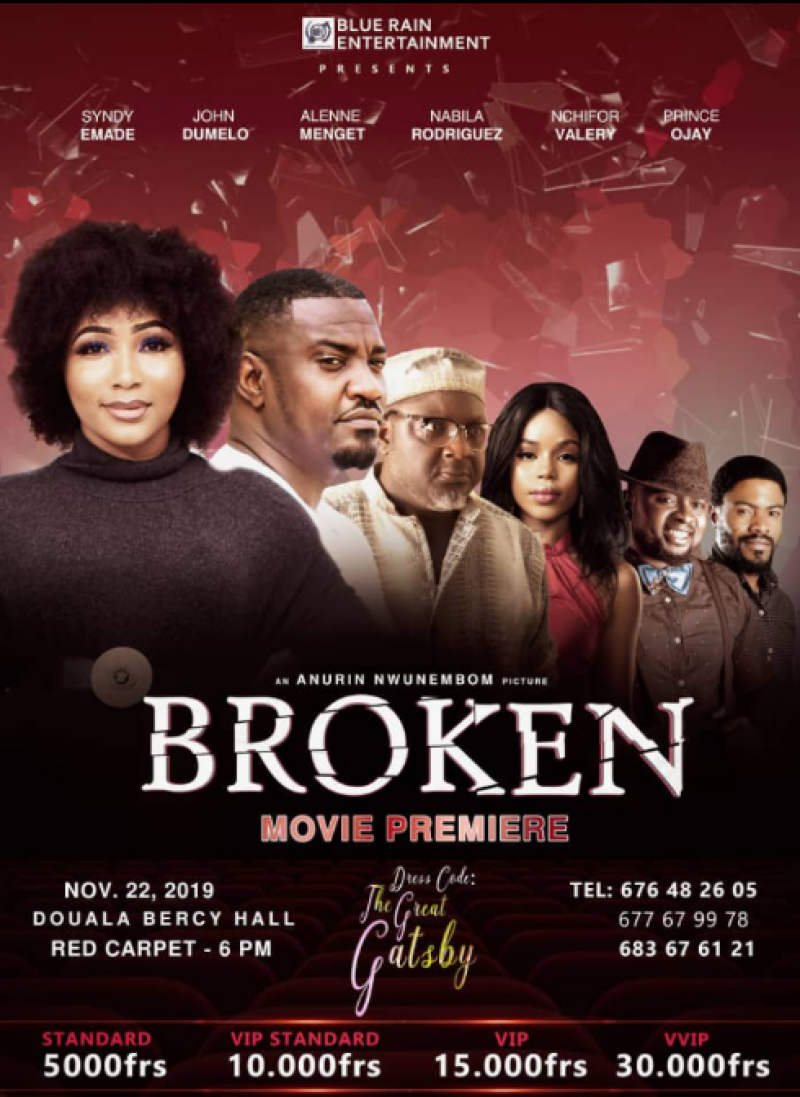 Cameroonian movie, Broken will be premiered in Douala November 22, 2019 at the Douala Bercy Hall, organisers have said. It will be hosted by the likes of towering Cameroonian journalist Jimla Nene alongside Dulafe and Nigeria's AY.
In Broken, a web of filial bad decisions land Sandrine Mbassy Muende in a more than complicated social situations. She needs to enter an agreement with Endeley Christian, a (calm/arrogant) hunter to save herself and her father's company.
Shot in Douala, the movie BROKEN is an in-depth look at the monster that the absence of validation and appreciation can create. The main characters include Syndy Emade, John Dumelo, Nchifor Valery, Prince Ojay, Alenne Menget and Nabila Rodriguez.
John Dumelo is a multiple award winning Ghanaian Actor and producer with over two decades of acting experience. He has featured in over 60 movies, won multiple awards on several Pan-African and International platforms, so there is no doubt that he would totally own the character; Endeley Christian Kweku, which he plays in Broken.
Syndy Emade is a multiple award winning Cameroonian actress and producer. She made her acting debut in 2010, and ever since then, she has featured in over 20 movies in Cameroon, Ghana and Nigeria. We can't wait to see how she brings to life the character; Sandrine Mbassi Muende, which she plays in #Broken.
Nchifor Valery has easily become a household name in the Cameroonian Movie Industry. With over 40 movies to his credit, and a 10 year span of acting experience, we can't help but look forward in excitement to how Nchifor Valery is going to play out the character Dr. Agwe Stephen, in Broken.
Usually remarked for his good looks, Prince Ojay is a very dynamic and versatile Cameroonian Actor. He has featured in movie projects that have been showcased on major platforms in Cameroon and Africa. We highly anticipate his performance as the character; Mola, in Broken.
Alenne Menget is undeniably one of the touch bearers in the Cameroonian Movie Industry. He has set unprecedented benchmarks in the industry by winning major Pan African and International Awards, like The Cannes Awards in France. We know he will deliver another Award winning performance as the character; Dr Muende Mathias, in Broken. We just can't wait!
Nabila Rodriguez undeniably has one of the sweetest voices Cameroon has ever known. As an artiste, she has easily penetrated the hearts of several. We know she will steal hearts as she makes her movie debut by playing the character; Patricia Mbole, in Broken.
Syndy Emade: a powerhouse in Cameroon's media industry
Syndy Emade, born on November 21, 1993 as Elone Synthia Emade holds a Bachelor's Degree holder in Economics from the University of Buea. She is a Cameroonian actress, model, movie producer and philanthropist.
She is the brand ambassador for Pan-African cosmetics brand Soleza, and also brand ambassador for Africa Best Beverages. She is the CEO Blue Rain Entertainment. A movie production and audio-visual company which has produced two award-winning movies: A Man for the Weekend and Rose on The Grave.
She made her international career debut in the Nigerian film industry, Nollywood, in 2016, in the movie "Why I Hate Sunshine".
She won the 2014 edition of Cameroon's Miss Heritage award. In 2017, she was listed second most active Cameroonian address, according to an online movie streaming channel Njoka tv for Africa entertainment.
Syndy Emade was awarded best Cameroonian actress in Scoops academy award 2017 and 2018.
She was awarded best social media personality at the Bonteh Digital Media Awards 2017.
In 2018, she won the Cameroon Career Women Award for Best Actress.
She won ZAFAA Awards 2018 for Best New Comer.
She was awarded a Next Generation Award 2018 for Best Actress in a lead role.
She got a Cameroon Fashion AWARD in 2018 for Best Dressed Female celebrity.
In 2019, she won the prestigious Canal D'Or Award for Best Actress.
Released and unreleased movies Syndy Emade has featured in: 2018 - Little Cindy, Virgin Blade, Escape(Nollywood), Red Carpet (Ghana), Otages D'amour(French series)and Defying the 6th.
2017 - Rumble TV Series and A Man For The Weekend. 2016 - Bad Angel (Tv series), Soldier wife, Housemate( Nollywood), Smokesscreen, Before you say yes and Chaising tails.
2015 - Rose on the grave; 2014 - Why I hate sunshine; 2013 - Different kind of Men; 2012 - Pink poison and Entangled; and 2010 - Obsession.