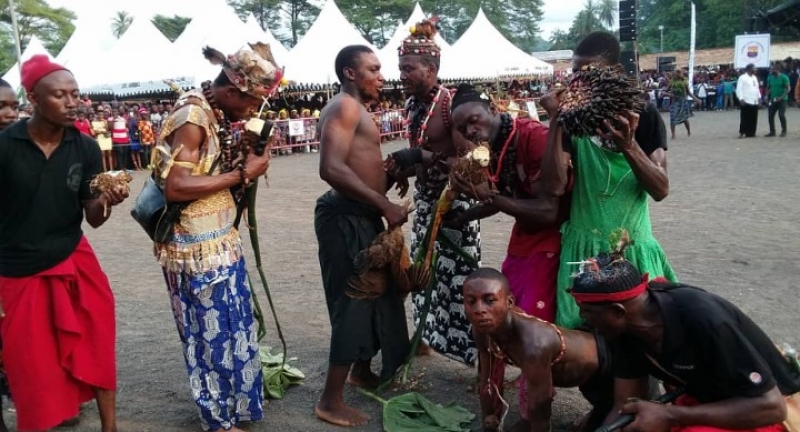 At the Limbe Festival of Arts and Culture, Limbe FESTAC 2019, Cameroon's cultural prowess is harnessed in one place. From April 6 to April 13, 2019, the country's unity in diversity is brought to the fore.
The Bakweri culture was on display on Sunday April 7 with the legendary Nganya dance stealing the show. The display was watched by Decentralisation and Local Development Minister, Georges Elanga Obam and South West Governor, Bernard Okalia Bilai shortly after an ecumenical service to pray for peace same day.
The "Atoghu" fabrics peculiar to the Grassfields is easily identified. These fabrics are displayed alongside locally-made jewelry and sculptures.
The Fang-Beti culture is projected through the numerous objects made from hides and skins, straw and leaves. These objects tell of the forest zone to which the people of the southern part of Cameroon are attached.
As for the Sawa, their traditional attire,"kaba ngondo" and "sandja" which are now considered the trade mark of these peoples of the coastal areas of Cameroon is on exhibition.
Visitors who explore the Sudano-Sahelian area of the northern part of Cameroon are treated to exhibitions of articles made from animal skin. The bracelets, dyed fabrics, footwear and purses made of animal skin tell the story of a people who also practice grazing.
Limbe FESTAC is characterized by cultural parades, traditional dances, gastronomic displays, carnival, marathon, canoe race, wrestling and a beauty pageant, garnished with a raffle draw this year. Void of any tribal or ethnic coloration, the Limbe FESTAC is about the biggest cultural event across the country that celebrates all the cultures of the country.
The event is holding this year within the context of the deepening crisis in Cameroon's North West and South West Regions as well threats from separatist fighters. Separatists loyal to the self-declared state of Ambazonia had called for a 10-day lockdown of Fako Division.
The lockdown, according to Chris Anu, Secretary of Communication and Spokesperson of the Ambazonia Interim Government, is meant to frustrate the Limbe Festival of Arts and Culture, FESTAC, which began on April 6 to run up to April 13. Going by Anu, such events like FESTAC should not be taking place in times of war, and especially at a time when people are mourning their loved ones. He added that the Interim Government had earlier informed the authorities of Limbe to put such a celebration on hold.
But popular show of defiance to the lockdown and the dictates of separatists may well be a message that the people of Limbe have taken their destinies into their hands.
Auteur: