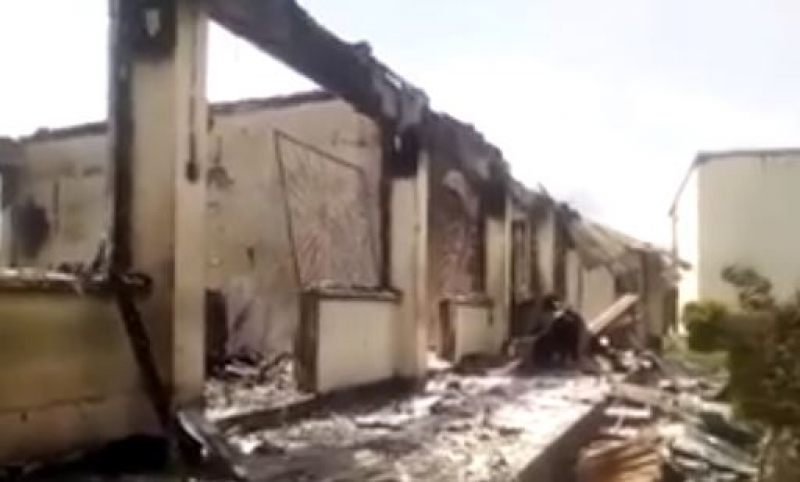 A Soldier working in Mamfe, Manyu Division, South West region has been shot dead around a locality called Satom, close to the Gendarmerie brigade in the area, Saturday June 9, 2018.
The soldier was reportedly drinking in a bar around Satom mapping out ways to trap Ambazonia fighters and eavesdropping conversation in the beer parlor.
Unfortunately he was taken unawares by some armed men who arrived the place and opened fire on the soldier, who dropped dead.
The dead of the soldier was preceded by exchange of gun shots between the fighters and Security forces that came to retaliate.
The entire Mamfe town was thrown into pandemonium as those who came to the central market deserted the area for safely.
Muyuka Legal Department reduced to Ashes
Unknown men stormed the Muyuka legal department last Thursday and set the entire building ablaze.
The office of the State Council at Balong quarter was also set on fire.
According to a guard on duty, the men came well armed and ready for any eventuality. He said they all surrendered to the armed men by laying their hands down. Some prisoners were set free same night at the Muyuka Prison by the men.
Motor Biker Killed in Bobong
There were sporadic gun shots in Bobong, Njinikom in the North West region of Cameroon early Saturday. A bike rider was shot dead and his motorbike burnt to ashes by Soldiers.
The road in Bobong were only cleared Saturday morning after unknown armed men blocked the stretch of road linking other villages with huge trees and stones.
Army Truck Crushes Taxi In Buea
The weekend was also characterized by unannounced search on streets and massive arrests in muea, Buea Subdivision in the South West region of Cameroon. Those arrested with or without ID cards were taken to Police stations in Buea.
A militray truck on high speed, crushed a taxi around Malingi in Molyko, but occupants came out safe.