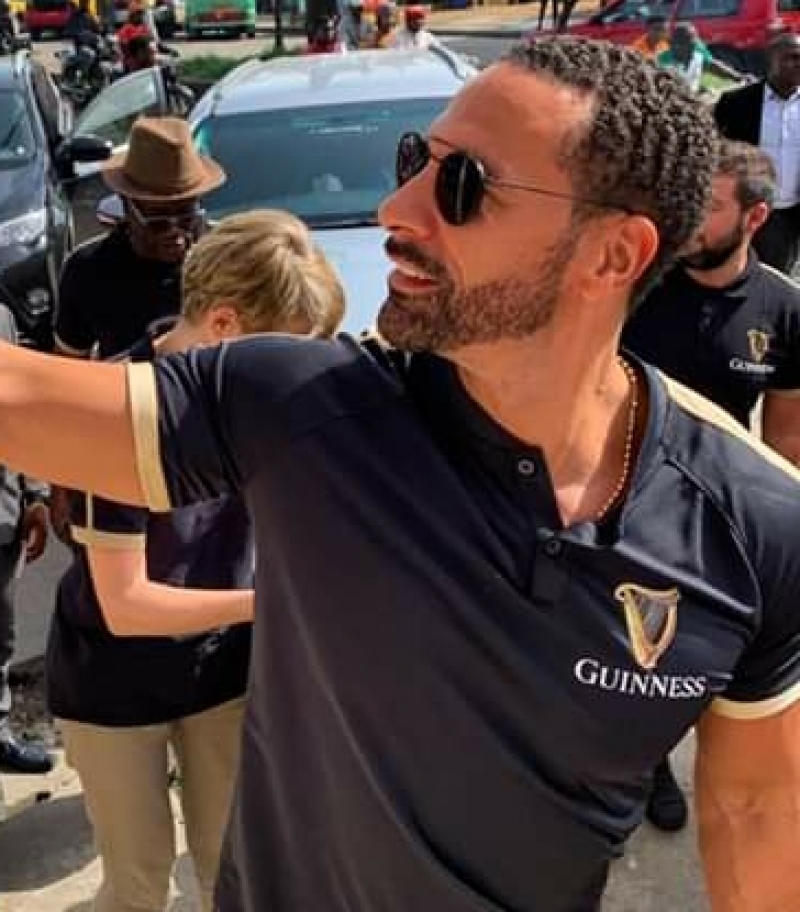 Former Premier star and Manchester United legend, Rio Ferdinand is in Cameroon this Saturday May 11, where he will engage in a series of activities and events with football lovers within two days.
His trip to Cameroon is thanks to Guinness Cameroon, where he would be working with Guinness, to encourage football fans to share their passion for football, in order to win an opportunity for a bore hole to be constructed in their community.
During a press conference at Bonapriso this Saturday, Rio said he was concerned about needs of the community and his relationship with football fans, which got him interested in the project. He said Cameroon and African football could be boosted by financial investments, which can also help improve on its economy.
He quoted Cameroonian players he had spent time with, such as Late Marc Vivien For, which he said was very professional and calm. He commended Cameroonians for being welcoming, just few minutes after he landed at the Douala International airport. He appreciated the food and was enthusiastic, about meeting football fans in Douala.
" I made my England debut in 1997 versus Cameroon which was a proud moment in my career so it's a pleasure to visit your country", said Rio.
Journalists raised concerns to the management of Guinness, why an international player was branding the product, and why they preferred Rio to watch an EPL game, instead of the country's league matches.
However, Solange Kuimo, marketing and innovations Director at Guinness Cameroon SA, said the company had invested in local football through the use of local players as brand ambassadors. She mentioned the likes of Samuel Eto'o, Patrick Mboma and Gaël Enganamouit. She further said Guinness assisted in the construction of a stadium in the West region , amongst other contributions to local football. She said the company was open to suggestions and projects from football operators.
Rio will visit some passionate footballers to share his experiences, and will attend a Guinness BlackNight, where he will be able to experience Cameroon's potentials, as well as watch a live football match of the English Premier League(EPL), with a group of fans who won a chance to be there.
Following a promotion on Guinness' special foreign extra stout product, some 11 football lovers will have the opportunity to win a VIP trip to the United Kingdom, to watch a live game with Rio Ferdinand. The promotion which began on the 22nd of April, will run till the 21st of July. It suffices for a football lover and a stout consumer to buy a bottle and check under the crown, if he has won. Several prices in cash and free Guinness extra stout bottles, constitute part of the promotion.
Guinness "Fans Made of More", have been encouraged to show their passion through a song or dance, to www.fansmadeofmore.com, in order to win this water project in their community, through a raffle draw and announced on Facebook.
Rio Ferdinand's visit to Cameroon, brings to mind his performance at the English club, Manchester United which has a wide range of fans across the World and Cameroon in particular. Just like Guinness, Ferdinand says he shares same passion of football, leadership, determination, confidence and creativity.