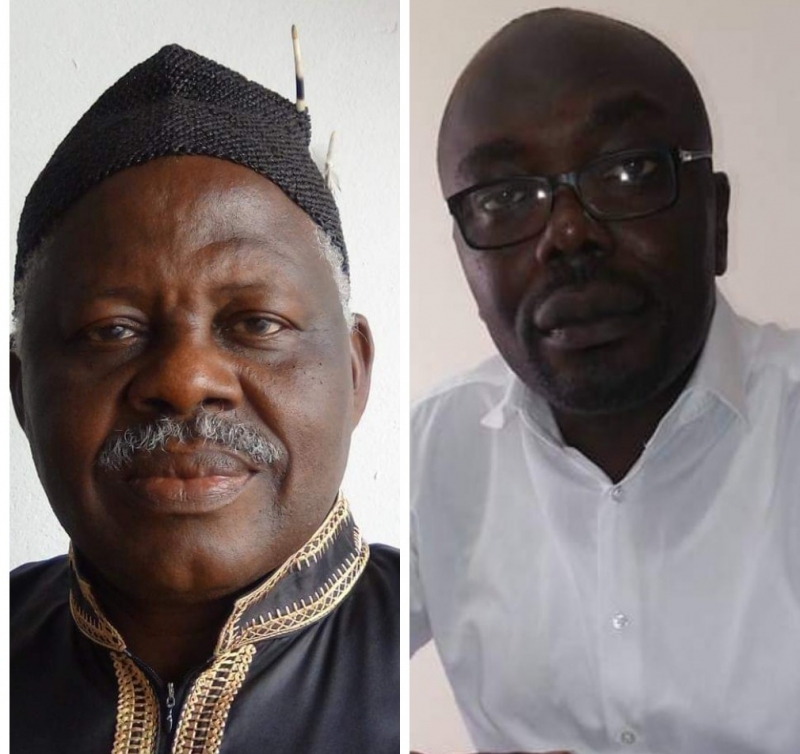 Ndifor Richard, a Buea-based historian and civil society activist has taken to Facebook in defence of the opposition Social Democratic Front (SDF) party after Hon. Ayah Paul Abine described the party as inconsistent and unfit to mediate the Anglophone Crisis.
On Monday, June 10, 2019, Ayah took to Facebook to bash the SDF in a post he captioned "SDF is inconsistent".
He writes: "PA Ayah was one of the earliest persons to argue against SDF offering to mediate in the current Anglophone War on the ground of conflict of interests. If any doubts anyone entertained then, those doubts have now been amply cleared by recent events. Although SDF has been inconsistent over the decades, we wish to limit ourselves to just two recent events.
"There are three broad groups of Ambazonians with conflicting stances. Some desire the restoration of their independence as a distinct entity from the de facto arrangement with the Republic of Cameroun in 1961. The second group is willing to accommodate a federation with the Republic of Cameroun. While the third finds nothing fundamentally wrong with the unitary state.
"Once you identify yourself with any of the three groups as SDF has identified itself with a federation, you have vested interest and are thereby automatically disqualified from being a mediator on the ground of conflict of interests. One wonders how a well-structured party like SDF with some of the best Ambazonian brains would, outside of pecuniary avidity, hold itself out as a mediator in this case!
"In the second place, SDF declared not so long ago that election was not possible under the prevailing circumstances; and that it would not take part in any election if the situation remained unchanged. Reasonably, the implication was that the situation would change for the better.
"But every reasonable, normal person knows that, since the Prime Minister's visit to the war zones, the indiscriminate killing of unarmed Ambazonians and the burning of their homes, hospitals, economic structures and crops have grown dramatically – threefold, fourfold. As a matter of fact, hardly does a day go by these days without reports that, at least, ten persons have been killed!!!
"What does prompt the SDF to proclaim its stance for a ten-state federation; and its willingness to go in for elections now? Is not it another mercenary project in the like manner of going in for senatorial election in the Adamawa Region some six years ago when SDF knew full well that only municipal councilors would vote and that SDF did not have any councilors in that Region?
"Inconsistent, unreliable or untrustworthy? Could we, please, stop toying with human lives??? It's bloodcurdling!"
Ndifor Richard fires back!
In a swift response, Ndifor Richard says he does not know of any other politician who is as inconsistent as Ayah Paul Abine. He advised the former member of President Paul Biya's Cameroon People's Democratic Movement (CPDM) to stop playing nasty politics and get more responsible
His words: "Hon. Ayah Paul Abine, you are a respectable individual and I hold you in very high esteem. It is sad that a personality of your standing will not show the basic leadership quality of patience by waiting for the official Resolution of NEC to give your reaction. All what you wrote on your Facebook wall is mere speculation and based on rumormongering.
"I believe, Honorable, you are far above this. SDF NEC meeting finished late Sunday evening and there is yet to be an official resolution of the party. I expected someone of your calibre to wait until the resolutions are out for you to make a statement in reaction. Rushing to Facebook to write about things you got from hearsay is quite unfortunate.
"As far as I know, nothing about federation was discussed in the NEC meeting. I don't know where you got that from. You are neither an SDF militant nor a NEC member. You talk of the SDF being inconsistent. I don't know of any other politician who is as inconsistent as Ayah Paul Abine.
"As CPDM MP you described the law creating ELECAM as the best piece of legislation you ever came across even when your party chairman Paul Biya later found faults with it.
"A few years after you described the same law as the worst piece of legislation. You ran as president in LRC [La Republique du Cameroun]. Shortly afterwards you declared yourself a secessionist and took up the chairmanship of the SCNC. Not long after that, you assumed the position as one of Judges of the Supreme Court of LRC. Today nobody knows whether you are a Secessionist, Federalist or Whatever. You keep playing hide and seek with Cameroonians. Stop this nasty politics and get more responsible Honorable."