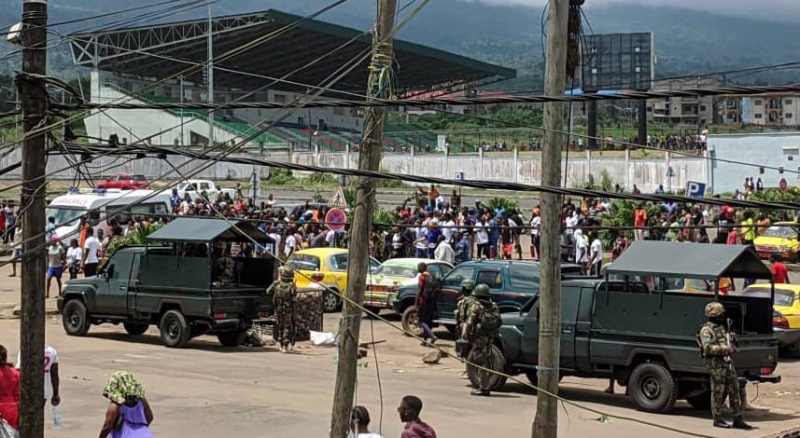 12 people sustained injuries when an Improvised Explosive Device blew off at the Trade Fair site at Bongo Square, Buea late on Sunday night.
State media reports that it was at about 9:45 pm on Sunday that the explosion occurred at the Trade Fair site.
Unable to breach security measures, the carrier of the bomb is reported to have thrown the bomb over the fence.
Dr. Martin Mokake, Director of the Buea Regional Hospital said nine injured persons have been discharged while three others are still under observation in the hospital.
"We received 12 injured ranging from the aged of 21 to 35. Most of them had mild but multiple injuries. They had multiple peroral wounds all over their bodies showing that the explosive was packed with pellets and sharp objects to cause maximum damage. For now, we have three of them who have been hospitalized out of the 12. The rest have been discharged. The three hospitalized had extensive injuries and we are still doing repeats of their scans to make sure that they are out of imminent danger," said Dr. Mokake.
Officials have opened investigations. They have also called on the population to remain vigilant and to intensify collaboration with the forces of law and order especially during this period of end-of-year festivities. They have been told to report anything and anybody suspicious.
Cameroon-Info.Net recalls that on December 6, 2021, separatists planted an explosive device at the Great Soppo Market. No casualty was recorded as the bomb was quickly spotted by traders in the market.
"It was a green gas cylinder. It would appear that the explosive device was left there intentionally. We thought we were going to die and as such ran for our dear lives. It's now that we have mustered the courage to come back following the reassuring words from the authorities who have been to the scene. They want to instill fear in us but we can't give in to fear because if we do not come to the market, we will be unable to feed our families," a trader said.
Although no casualty was recorded, the local authorities alongside the forces of law and order descended to the scene to evaluate the situation.
The Mayor of Buea, Barrister David Mafani Namange says the peace-loving people of Buea will not be shaken.
"I want to condemn it and condemn it totally on behalf of the population of Buea. The crime is that we are peaceful people, if at all that is a crime. But I want to thank the population that nothing will shake our resolve to stay peaceful and to stay by the nation," he said.
The population has been called to always scrutinize their environment, watch out for suspicious items and collaborate with the forces of law and order so as to maintain peace in Buea especially during this festive period.
Cameroon's state forces have been battling to dislodge armed separatists who pitched their tents in the North West and South West Regions since Anglophone protests transformed into an armed conflict in 2017.
Corporate demands by Common Law Lawyers and Anglophone Teachers led to protests in November 2016. The street demonstrations later morphed into ongoing running gun battles between state forces and armed separatist fighters in the predominantly English-speaking regions, leading to untold destruction of human lives, their habitats, and livelihoods.
Tit-for-tat killings, kidnappings, arsons, maiming, and outright terror have become part of daily lives in some parts of the English-speaking regions. The militiamen have recently resorted to using Improvised Explosive Devices (IEDs) in schools, markets, and other civilian environments.