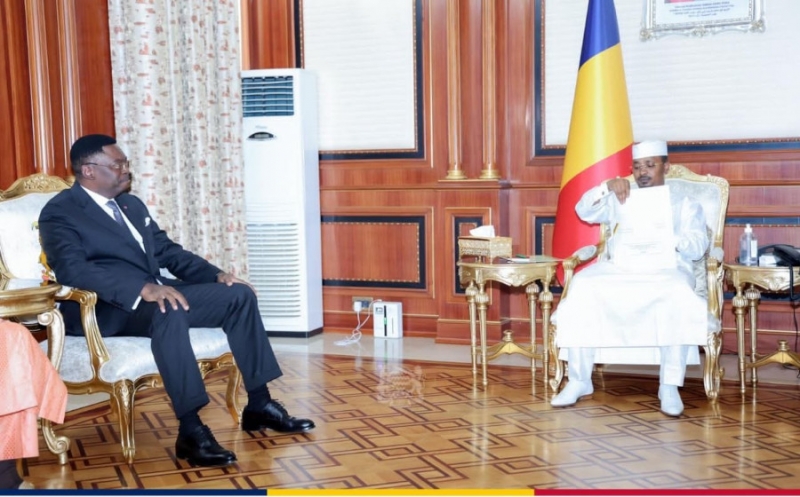 Heads of state 'willing to further strengthen relations,' says Cameroonian presidential official
KIGALI, Rwanda (AA) - Chad and Cameroon have agreed to resolve their dispute over assets belonging to a multinational oil giant, Exxon Mobil, an official said Wednesday.
Ferdinand Ngoh Ngoh, a Cameroonian presidential official, announced this after a meeting with Chad's transitional president, Mahamat Idriss Deby, in the capital N'Djamena, according to Chad Information Agency.
The centuries-old relations between our two countries, which have "always been excellent remain the same" and the two heads of state are "willing to continue to work to strengthen these relations for the well-being of their states and their peoples," Ngoh was quoted as saying.
"Some misunderstandings have been dispelled and there is really no cloud in the relationship between Cameroon and Chad."
Ngoh, who visited the country as a special envoy, days after Chad recalled its ambassador to the neighboring country over the dispute, handed Deby "a message of friendship, a message of fraternity" from his counterpart Paul Biya.
Chad recalled its ambassador to Cameroon on April 21 amid a dispute over assets belonging to a multinational oil giant, Exxon Mobil, which the Chadian government nationalized.
Last month, the Chadian government nationalized assets of Exxon Mobil which include the company's interest in the more than 1,000 km (621 miles) Chad-Cameroon pipeline from Chad to the Atlantic Gulf of Guinea coast used to export crude.
The controversial move came months after ExxonMobil had in December closed the sale of its operations in Chad and Cameroon to British-listed Africa-focused oil and gas energy company, Savannah Energy, in a $407 million deal.
The sale was contested by the Chadian military government.
Chad was infuriated over reports that Savannah Energy had decided to sell its 10% stake in a company that controls the Cameroonian section of the Chad-Cameroon oil export pipeline to Cameroon state oil company, at $44.9 million -- which the Chadian authorities were against.
The Chadian presidency accused the Cameroonian authorities of being dishonest in negotiations aimed to resolve the disputes regarding the acquisition of the assets of ExxonMobil by Savannah Energy.
Gali Ngothe Gatta, a Chad presidential official, had warned that the "dispute undermines relations between the two countries and could have consequences on economic and political cooperation."
James Tasamba/AA