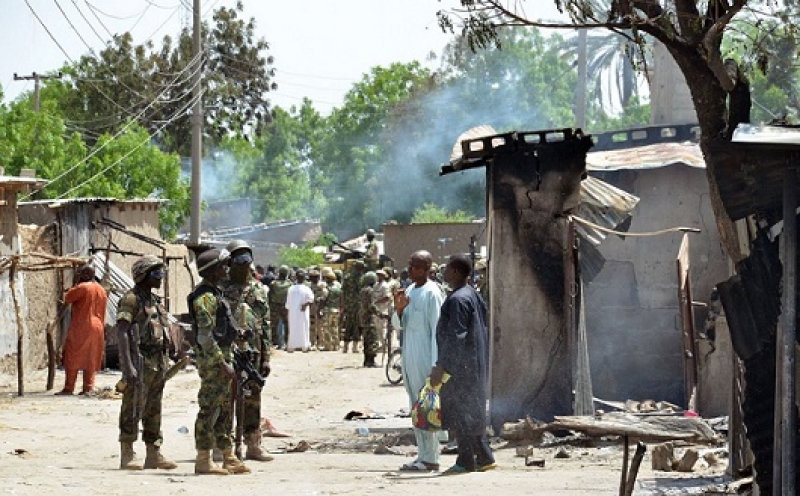 Beti Assomo Joseph, Cameroon's Minister Delegate at the Presidency of the Republic in charge of Defence has said 16 soldiers of the country's defence forces were killed when jihadist fighters belonging to the Boko Haram group attacked Darak, a locality in the Far North Region.
The incident took place in the night of Sunday June 9 to Monday June 10, 2019 when 300 heavily armed fighters of the Boko Haram terrorist group attacked Darak in the Logone and Chari Division of the Far North Region, the Minister said in a statement Wednesday.
The riposte by Cameroon's Defence Forces attached to Sector No. 1 of the Multinational Joint Task Force of the Lake Chad Basin resulted in a fierce gun exchange that lasted for several hours.
After taking control of the situation, the government presents the balance sheet of the nightlong gun battle.
16 soldiers were shot and killed, while eight others were injured, government said in a press release. The injured brave soldiers are said to be in a stable condition and have been evacuated to specialised military medical facilities for proper treatment.
On the part of civilians, eight were killed and one wounded. The wounded is said to be in a stable medical condition in hospital.
The defence minister says 64 Boko Haram fighters were neutralised (killed), eight captured and many others wounded as they fled while three heavy duty machines belonging to the assailants were destroyed.
Cameroon's Minister Delegate at the Presidency of the Republic in charge of Defence extended to the bereaved families the condolences of the Head of State, Commander in Chief of the Armed Forces as well as his wishes of quick recovery for the injured.
Boko Haram's decade-long uprising to establish a hardline Islamic state in Nigeria's northeast, which has killed more than 27,000 people and left 1.8 million homeless, has spilled into neighbouring Niger, Chad and Cameroon.
An anti-Boko Haram force combining soldiers from Chad, Cameroon, Niger, and Nigeria has been set up but is still battling to rout the group from the restive Lake Chad region.
This latest attack from the jihadist group is by far the bloodiest in recent months, which have seen a surge in violence after a period of calm last year.