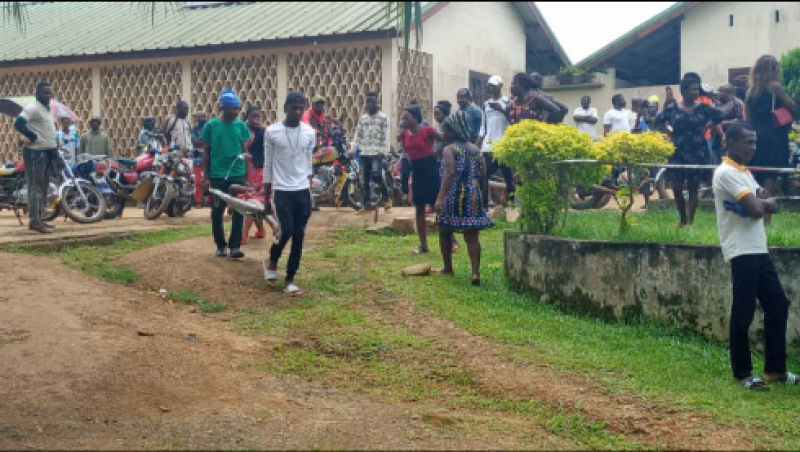 No fewer than eight students of Mother Francisca International Bilingual Academy in Fiango, Kumba have died following an attack on their school by armed separatist fighters Saturday, October 24, 2020.
Videos making rounds on social media indicate that the gunmen entered the classroom while the students were studying and opened fire on them.
In one of the classrooms, blood is seen coagulating on desks and on the floor. One of the videos making rounds shows the human brain in a pool of blood on the floor of a classroom. Shoes, books, school bags, and other school paraphilia are also seen scattered.
"At least five children of Mother Francisca International Bilingual Academy, a school with both primary and secondary children in Kumba, a restive town in Cameroon's South West Region were shot and killed on the spot when unknown gunmen, Saturday, October 24, 2020, opened fire on over a dozen. An unspecified number has been listed to have sustained injuries," National Telegraph, owned by Ambazonia activist Eric Tataw, reported shortly after the incident.
Journalists at the scene of the episode however say the death toll has risen to eight and at least 10 students are in intensive care at the Kumba District Hospital.
"I'm on the field. Close to ten children are at the emergency unit of the Kumba District Hospital while five lifeless bodies are at the mortuary and elements of the Army Rescue have rushed to the school to recover about two lifeless bodies from the school campus," a journalist covering the incident said.
But a nurse working at the Kumba District Hospital is quoted as saying that the casualty figure in the school attack now stands at eight.
While officials have been struggling to comfort the population and reassure them of their security, parents have been rushing to various schools within the town to withdraw their children from school.
This is one of many other separatist attacks on schools in Cameroon's North West and South West Regions since 2016 when Common Lawyers and Anglophone Teachers went on strike against perceived marginalization of English-speaking Cameroonians.
Last month, Eric Tataw Tano, a US-based Cameroonian pro-separatist activist fronting for the independence of a country called Ambazonia said the education of children can no longer be used to gain political capital.
Taking to his social media accounts ahead of school resumption, Eric Tataw said the school boycott imposed on learners in the North West and South West Regions by armed rebels must not get into the fifth year.
"Any amba [separatist] fighter who attacks schools should be arrested. I have said so. Nobody is supposed to attack schools, hospitals, and churches," Eric Tataw said. "As part of my corporate social responsibility as a rights activist, weighing on the convictions of parents to ascertain the security guarantees of their children, I'm unapologetically asking all Ambazonian fighters & activists join me in the crusade to allow school resumption."
He added that "We have mortgaged the lives of these children for four years and it is enough! Enough is enough! I give you a 100% guarantee that those children will go to school. No one is going to stop them from going to school. All fighters should take our children to school when they want to go to school."
According to the UN, more than 80 percent of schools in the English-speaking North West and South West regions are closed; as the security situation and living conditions continue to deteriorate due to the three-year conflict between the government and armed groups.
The school closures are the result of a ban on education imposed by militia groups, which has affected more than 600,000 children, seen at least 74 schools destroyed, and exposed students, teachers, and school personnel to violence, abduction, and intimidation.
Today's incident puts to question the sincerity of the back-to-school calls made by the separatist activists.

Story by Atia Tilarious Azohnwi