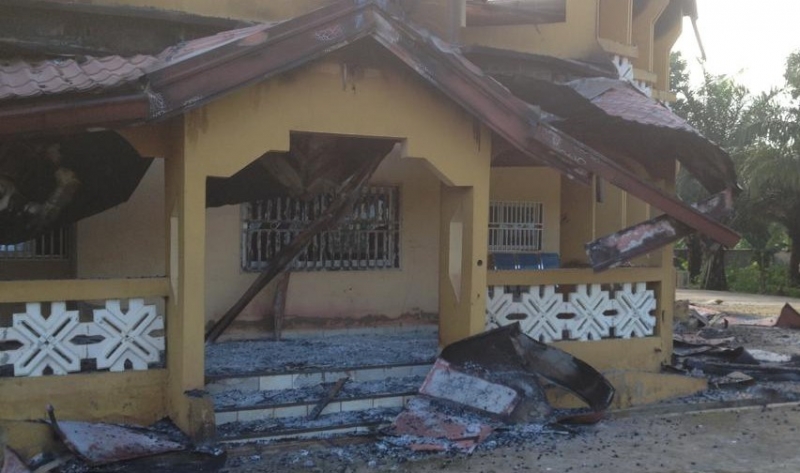 Few days after the death of Chuo Cyprian Akwo, Menchum I Section President of the Cameroon People's Democratic Movement, CPDM party, unknown persons attacked and burnt  down his residence in Wum.
The news of this attack has been received with a lot of shock and condemnation from friends, sympathisers and family members, who are yet to recover from the passing of this politician and father.
A group of armed separatists carrying out most attacks within Menchum known as Tigers, on Wednesday denied claims or links to the incident. In a statement circulated over social media they called the attack barbaric and promised to expose anyone who was behind the attack or who used the name of "Ambazonia" to perpetrate such act.
However, the disclaimer came from one of the separatist leaders abroad. Same leaders had in several occasions declared they had little control over the actions of their soldiers on the ground.
Last Thursday, the death of this senior staff at the Ministry of Public Health, was announced. He died at the Yaoundé National Social Insurance Fund(CNPS) hospital, after a brief illness. Reports say he was rushed to the health facility from his home in Biyem-Assi early Thursday last week, before he later died.
Before his demise last week, Chuo Cyprian had been distinguished severally for his role in development and participation in politics in Menchum division and beyond. In 2016, he was announced winner of The Guardian Post 2015 most devoted CPDM militant of the year. Chuo Cyprian, is said to be down -to -earth and a selfless elite who was animated by the fundamental will to do -good.
Recently suspected separatists have warned all politicians who decided to boycott their calls for a boycott on Cameroon's political affairs to stay away from home or face the consequences. Even those who die, their corpses are denied from being buried on home soil.
Some family members have paid an amount of money to secure a safe burial of their love ones who served in these positions. The case of Late SDF MP, Honourable Banadzem Joseph is yet to see a greenlight, after family declared he would be buried in his home town, Kumbo, Bui Division.
Auteur: