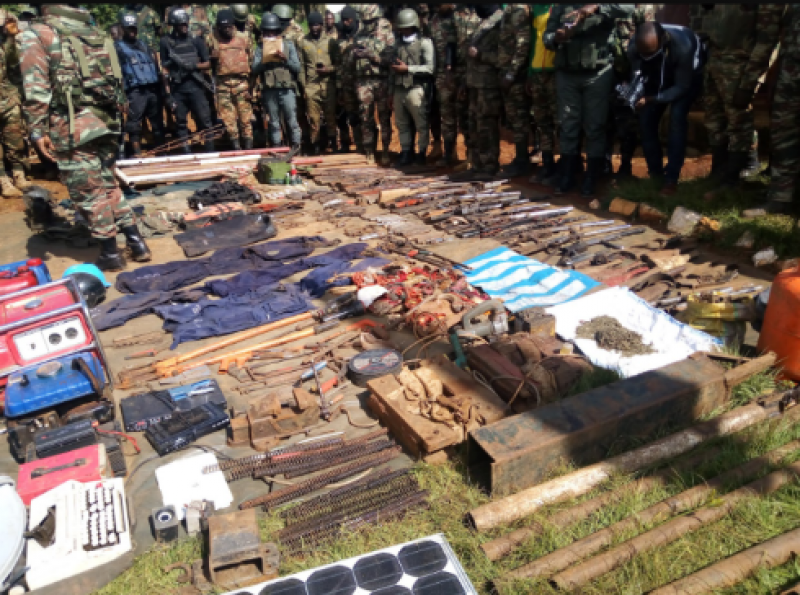 After Operation Free Bafut and Operation Widi-Bali, Colonel Matiang Charles Alain, commander of the 51st motorized infantry battalion led 500-foot soldiers on a seven-day operation in Ngoketunjia and Bui Divisions dubbed Ngoke-Bui.
On Friday, July 3, Matiang and his elements restored traffic along the Kumbo-Oku road, a stretch that had been impracticable for two years, after armed separatists destroyed bridges and roads linking the two areas.
At the end of the Ngoke-Bui Operation, soldiers had raided separatist fortresses in Ngoketunjia and Bui Divisions, including areas like Balikumbat, Tadu, Djottin, Njikijem, Oku and Ibal.
While presenting the results of the operation at the premises of the 51st support Battalion in Kumbo, the Commander of the 5th Joint Military Region, Brigadier General Nka Valère and the Commander of the 5th Gendarmerie Region, Brigadier General Ekongwese Divine Nnoko called on armed separatists to drop their weapons so they can be reintegrated into society through the National Disarmament, Demobilization, and Reintegration program for ex-separatist fighters and repentant Boko Haram militants.
Nka regretted that one soldier died in the operation while three others were injured. 17 separatist fighters were however neutralized – 12 in battle and five others died later after sustaining bullet wounds. Five other armed men captured in the Ngoke-Bui Operation are said to be responding to treatment in the hospital.
Matiang and his elements destroyed a dozen motorcycles but managed to carry away nine others from the camps of the armed fighters. Other items retrieved from the fortresses of the rebels include Dane guns, locally made explosives, artisanal firearms, assorted metals, huge quantities of marijuana, solar panels, generators, a gas bottle, assorted electronic gadgets, and an office chair known to have been used by rebel leader Bush Rambo.
Nka used the occasion to remind the local population that the military is out to protect the people and their property. He urged the armed separatists still hiding in the bushes to drop their weapons and benefit from a presidential pardon.
"To the separatist fighters, the Head of State had instructed that those who drop their arms are forgiven and taken to the Disarmament, Demobilization and Reintegration center in Bamenda. But those who will continue with kidnapping, mounting roadblocks, and other dangerous assignments, we will continue with the work on the field," Nka said.
Military installations are being installed in several of the areas combed by the defense and security forces in a bid to guarantee the safety of the masses as life gradually returns to normalcy. The local population has thus been urged to collaborate with authorities.