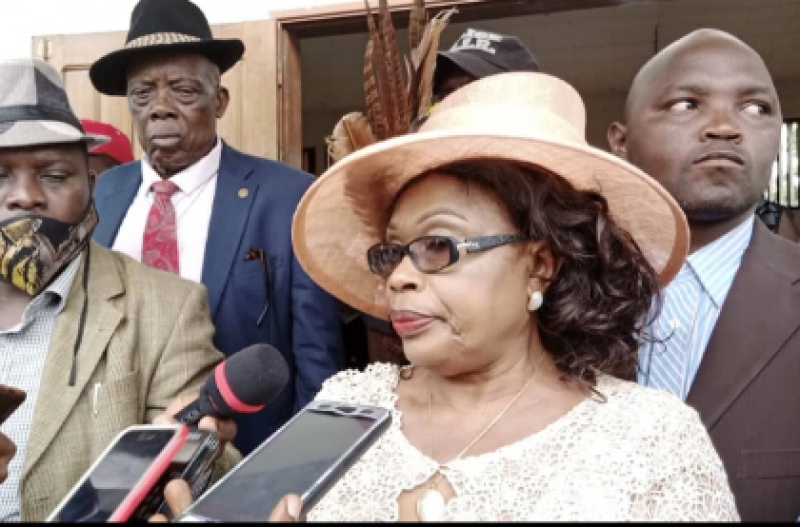 Telelen Dorothy Atabong épouse Motaze, the pioneer Public Independent Conciliator for the South-West Region, has pledged to use her motherly touch and open-door policy in resolving conflicts.
The 61-year-old experienced educationist was speaking Tuesday, July 6, 2021, at the South-West Court of Appeal while taking her oath of office before the public and private bar in the presence of religious, traditional, municipal, and administrative authorities.
The oath-taking is in keeping with section 7 of Decree no. 2020/773 of December 24, 2020, requiring the Public Independent Conciliator to take an oath before a competent court of appeal within 30 days from his/her appointment.
Appointed by presidential decree no.2021/342 of June 10, 2021, within the context of the socio-political crisis plaguing the South-West region, the pioneer Public Independent Conciliator says she is aware of the challenges ahead of her.
"It is true that the times are really not the best but I know I am going to bring in that touch which a mother usually brings into the whole situation," said Dorothy Motaze. "We know how to pamper, and we know how to bring our children, our brothers, and our husbands to reason. So, the region should expect an open-door policy. The office will be wide open and I am ready to receive everybody in the office with no restrictions and with no bottlenecks."
The South-West Public Independent Conciliator swore to conduct her 6-year non-renewable mandate in keeping with the law and her conscience.
Her words: "I, Dorothy Atabong Motaze, do solemnly swear that I will loyally and faithfully execute with probity, impartiality, and independence, the duties of Public Independent Conciliator entrusted to me, that I will uphold professional secrecy and that I will face in everything I do, the obligations they impose on me."
Administering the oath, Justice Helen Fonacho, First Deputy President of the South-West Court of Appeal urged Dorothy Motaze to use diplomacy, tact, and skills acquired in her stewardship in order to merit the confidence bestowed on her and gain collaboration from the population.
"Your office should instill and exemplify hope, confidence and fair justice exhibited on a level playing ground. More so, you are coming into office at a time when the region is experiencing an unprecedented wave of unrest and crisis where we are all called upon in our different quarters to be crusaders and ambassadors of peace especially in your sphere of conflict resolution," said Justice Helen Fonacho.
The presiding judge went further to extort the South-West Public Independent Conciliator to perform her duties in consonance with the law and her conscience, clothed with the independence bestowed on her.
Hear Justice Helen Fonacho: "While we wish you well as you venture into your new office, we again exhort you to give meaning to the oath you have just taken today by helping the entire regional and council administration of the South-West region to stay powerful, respected, independent and impartial in its application of the law and its accompanying procedures."
The judge urged Dorothy Motaze to serve as a mediator of disputes and to treat complaints involving the public, regional and local authorities.
"The public independent conciliator, in the end, makes a report of her entire findings in a given complaint which may be published. She's equally expected to submit an annual report on the state of relations between the citizens and the Regional Council services. As a matter of fact, the report is expected to provide a balance sheet of the activities of the Public Independent Conciliator in her area of jurisdiction," said Justice Helen Fonacho.
The Public Independent Conciliator will among other things defend and protect rights and freedoms in the relationship between citizens and the regions and councils of the region; design and implement measures to combat any direct or indirect discrimination against users of the regional council services; ensure that persons serving in the regional council administration fulfill their ethical obligations; conduct any investigations on the functioning of regional council services at the request of five parliamentarians or five regional councilors; prepare an annual report on the state of the relationship between the citizens and Regional Council services.
Enter Telelen Dorothy Atabong épouse Motaze
Telelen Dorothy Atabong épouse Motaze, first-ever Public Independent Conciliator of the South-West Region was born on August 21, 1960, in Mbindia village, Fontem Subdivision, Lebialem Division.
She obtained her Ordinary Level Certificate from Queen of the Rosary College, Okoyong, Mamfe in 1977 and got her Advanced Level certificate two years later. She enrolled in a teacher training college, graduating with a teacher's grade one certificate. Between 11994 and 1997, she earned a bachelor's of education degree from the University of Buea and would move on to obtain a Master's of education in educational administration. She graduated with a higher teachers training certificate from the Higher Teachers Training College (Ecole Normale Supérieure, ENS) Yaoundé in 2006.
After a very rich teaching experience, she served as Regional Pedagogic Inspector for ICT at the South-West Regional Delegation for Basic Education from 2010 until 2012. From 2012 to 2016, she served as Sub-Director in charge of General Affairs at the South-West Regional Delegation for Basic Education. From 206 until she retired in October 2020, she served as South-West Regional Delegate for Basic Education.
Telelen Dorothy Atabong épouse Motaze is married to Dr. Christopher Sinju Motaze. They are blessed with four children.