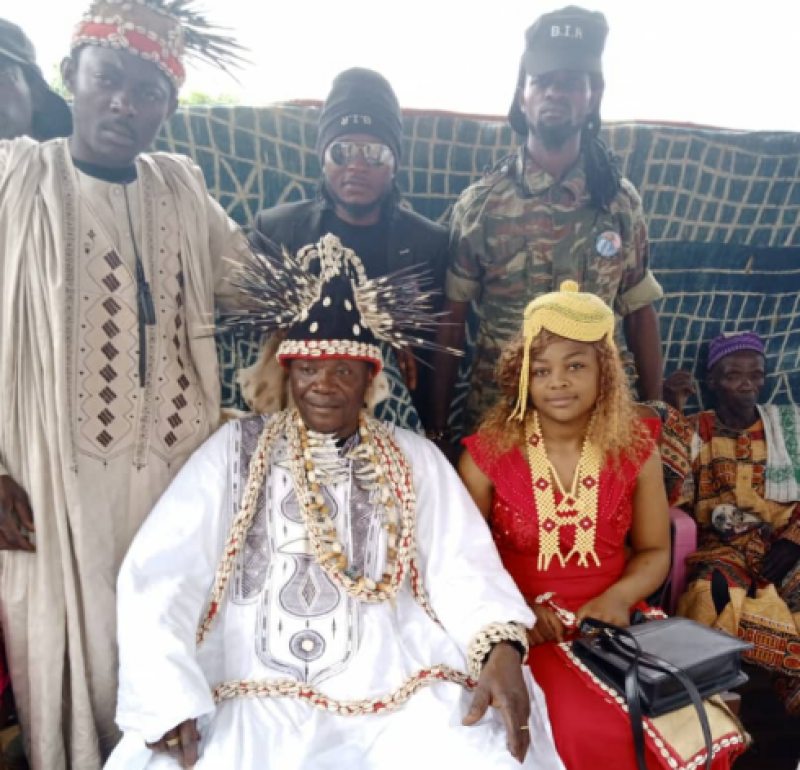 Lekeaka Oliver aka Field Marshal, leader of the Lebialem-based "Red Dragons" armed group fighting to make of Cameroon's North West and South West Regions an independent country christened Ambazonia, has appeared in a picture further posing as King of Lebialem.
The separatist fighter is clad in an outfit akin to traditional rulers in the area. This comes after he is said to have enthroned himself as the King of Lebialem, a division in Cameroon's South West region. Near "King Field Marshal" is a young lady believed to be "the Queen". This same lady was spotted in military-kind fatigue with Lekeaka in a video shot on October 1.
Tapang Ivo Tanku, Spokesman of the Contender Forces of Ambazonia says by "imposing' himself as King of Lebialem, "Field Marshal" has raped the culture of a vulnerable people.
The US-based rebel spokesman took to twitter Monday, October 7, 2019 to call the leader of the Red Dragons to order. His words: "As we seek a political reform through self-determination rights, we deny and denounce the rape of culture. Our goal is not to abuse cultural rights of a vulnerable community. We must protect their rights and not take over their rights."
Tapang told Cameroon-info.net Monday night that the raping of the culture of a vulnerable people could plausibly lead to the death of the self-imposed king.
Hear him: "I think it is excessive abuse of power and the rape of culture. It undermines the vulnerability of a people seeking their freedom while trying to preserve their cultural rights. It could, plausibly, lead to the death of the self-imposed King.
"It is unacceptable and it shows excessive abuse of power meant for the liberation of a people and not further subjugation of a people. It invokes cultural conflicts amidst an already dire political turmoil."
Cameroon-info.net recalls that a video went viral on social media last October 1 showing celebrations of the supposed independence of Ambazonia. It opens with a war song led by people said to be "notables of Lebialem County crowned by the Field Marshal". The dance by a mix of youths and elders ushers in the armed group leader who is dressed in a fatigue similar to that of Cameroon's elite soldiers - the BIR.
Sandwiched by his fellow armed fighters and with a large umbrella raised over his head, Field Marshall recognises the thick crowd that greeted his arrival with ululation. He would then move to take his seat but is moved to join the dancing for a few moments. He is then ushered to a special seat apparently reserved for kings only.
What will appear to be a military-style parade is followed by prayers with the Field Marshall rising to his feet and taking off his cap. The prayers are followed by a hoisting of the separatist flag in the middle of the esplanade believed to a ceremonial ground.
Field Marshal has since sent out audios to boast of his exploits in battle. Last December 31, the Cameroonian Army said it had killed "Field Marshall" Lekeaka Oliver in Lebialem though his death was quickly denied by the Interim Government of Ambazonia.
Two months after, Cameroon's Military insisted on social media that the leader of the "Red Dragons" had indeed died and was buried in Nigeria. A twitter and a Facebook account, "Honneur et Fidélité – Armée Camerounaise", announced on February 11, 2019 that "Field Marshal" died and was buried in Taraba State, Nigeria.
"The grave of late Oliver LEKE FONGUNUEH Field Marshal in Taraba State of Nigeria. He was attained fatally on the 27 of December 2018 during combat with the B.I.R after his position was sold out. He died in Taraba State of Nigeria where he was taken for treatment as requested by his witch doctor. Since then, a comic actor is paid to record his audios in Alapa old rold at Ikom, Nigeria( Sam arks studio)," a post on the military's Facebook page read on February 11, 2019.
The above post was accompanied by two pictures – one showing Field Marshal displaying guns and another showing a grave believed to be his. A similar post was put on twitter same day.
As a result of the crisis in the North West and South West Regions of Cameroon, most traditional rulers have fled in search of sanctuary in areas far from the theatre of violence that has since characterised the crisis.
The recent Major National Dialogue convened to seek solutions to the crisis has ended but the crisis only appears to be deepening.