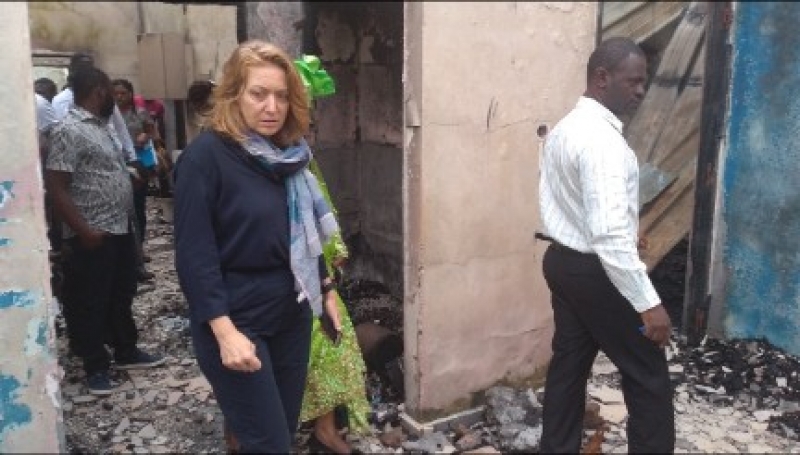 Ms Allegra Baiocchi, Resident Coordinator of the UN system and Humanitarian Coordinator in Cameroon has regretted that their appeal for humanitarian support for victims of the current situation in the North West and South West Regions remains "very underfunded".
She was speaking Saturday, August 17, 2019 at the end of a one-day working visit to Kumba, chief town of Meme Division in Cameroon's South West Region.
"Today, we have decided to try and get more access and go closer to where the population that we serve are. So, we were able to come to Kumba and we have spent the morning here looking at different projects of humanitarian organisations and also trying to understand how the situation is evolving - what are the big challenges but also some of the things that are already in place," Ms Baiocchi said.
Her first stopover in the Division was at the office of the Senior Divisional Officer where she was received by Hermia Ngowo Ikome epse Njonje Kinge, Second Assistant Senior Divisional Officer for Meme.
Ms. Baiocchi told the administrator that they have been scaling up humanitarian action for the past two years and fully understand the importance of coordination.
"We have always agreed on the importance of information sharing. The only reason we are here is to help the people and to get to them in the best way possible. We are looking for the most efficient way to get to the people," the UN Humanitarian Coordinator said as she re-echoed the humanitarian principles of humanity, neutrality, impartiality and independence.
She later visited the scars of the burn portions of the Kumba District Hospital where she was led on a guided tour by Dr. Asonganyi Etienne who sat in for the hospital director.
After visiting partner projects and talking with some of the internally displaced persons, Ms. Baiocchi settled down to a meeting with humanitarian partners in the Division before leaving for Buea.
Hear her: "So, after having spoken to the internally displaced people, we've met some of the beneficiaries of our projects, we've met a lot of partners and it is clear that the situation is still very difficult.
"It's good to see some of our projects in place but we also hear from everyone that it is the tip of the iceberg. A lot more is needed which means more partners, more access and also more resources because we cannot do this unless we get more resources.
"Unfortunately, our appeal is still very underfunded; it's 21 percent funded and we are close to September. So, that is very worrying to me and coming here has just given me more energy to go back and ask for more because we see that we can help people, we have good projects on the ground and there are so many people that are in need. So, there is really no reason for us to not received more resources."