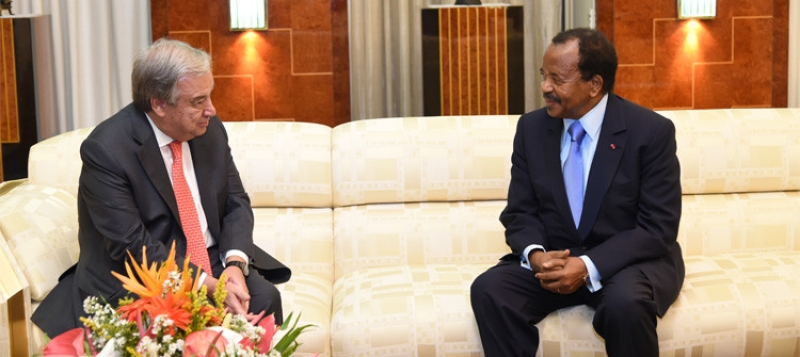 The Secretary General of the United Nations has shown support towards President Paul Biya's announced dialogue on the crisis affecting the North West and South West regions of Cameroon.
Antonio Guterres through the United Nations info page on twitter, calls on all parties to take part in the dialogue. His message is addressed to those living in Cameroon, as well as the diaspora.
Following numerous calls from within and the international community for calm to return to the restive regions, President Paul Biya called for a national inclusive dialogue during an unexpected speech delivered over CRTV on Tuesday September 10, where he reiterated on the need for peace to reign in the affected regions.
The dialogue to be led by Prime Minister Joseph Dion Ngute has been appreciated by some international and national bodied, who think Paul Biya has made a step towards finding everlasting peace to the problems in the English speaking regions.
However, critics say the President sidelines separatist leaders who have been sentenced as well as those who live abroad and are now citizens of their host countries.
The dialogue according to the President, concerns only those from the North West, South West regions and the diaspora. Pressure from the European Union, United Nations, pressure groups, humanitarian organisations, many say, might have pushed the president to take such a decision.
However, some Internally Displaced Persons from the affected regions living in Douala, Yaoundé and Bafoussam, have been expressing euphoria over social media, on the announced dialogue, with many stating that if it is genuine, some of them can now return to their families and businesses.