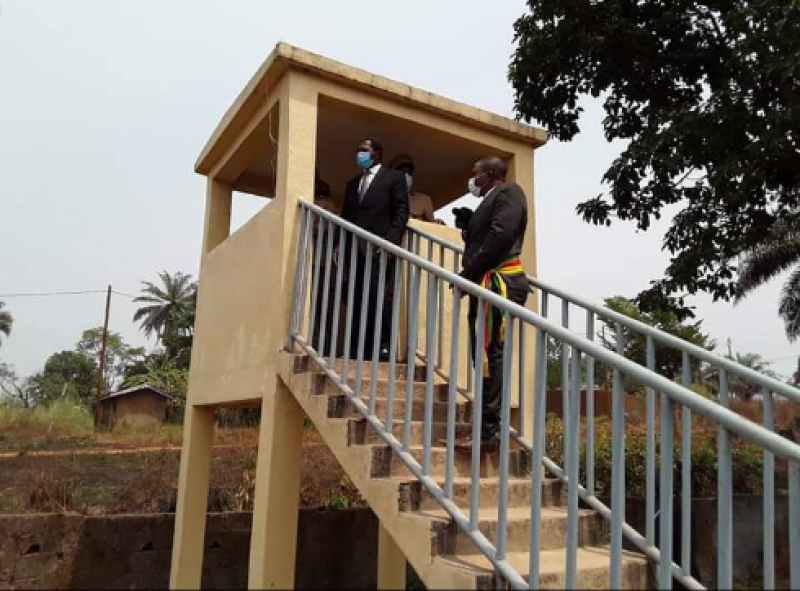 Diobe-Elumba Didacus Elumba, Divisional Officer (D.O.) for Bafut Subdivision has banned a checkpoint mounted by security forces in front of his office. The ban is contained in a sub-prefectural decision dated June 28, 2021.
According to the D.O., the decision was taken "considering a series of complaints from the populations, notably road users about harassments, assaults, and extortions of the Forces of Law and Order taking guard at the Sub Divisional Office, Bafut."
The Divisional Officer for Bafut adds that "the job description of the Forces of Law and Order at the Sub-divisional Office, Bafut is limited exclusively to securing the premises."
Considering, therefore, the necessity to maintain peace and order and the necessity of service, the Divisional Officer for Bafut decided as follows:
"That with effect from the date of signature of this Decision, the illegal check-point mounted in front of the Sub-divisional Office, Bafut by the Forces of Law and Order taking guard in its premises is hereby banned.
"That any element or group of elements of the forces of law and order who contravene this decision shall be sanctioned in accordance with the provisions of the laws and regulations in force;
"That the brigade commander, Bafut, and the Commissioner of Public Security Bafut, are charged with the implementation of this decision.
"That the present decision shall be registered and communicated wherever and whenever necessary."
The D.O. for Bafut writes that this decision was taken mindful of Decree No. 2008.377 of 2 November 2008 defining the powers and duties of heads of Administrative Units and the organization and functioning of their services, as well as Decree No. 2019/030 of 23 January 2019 organizing the Ministry of Territorial Administration.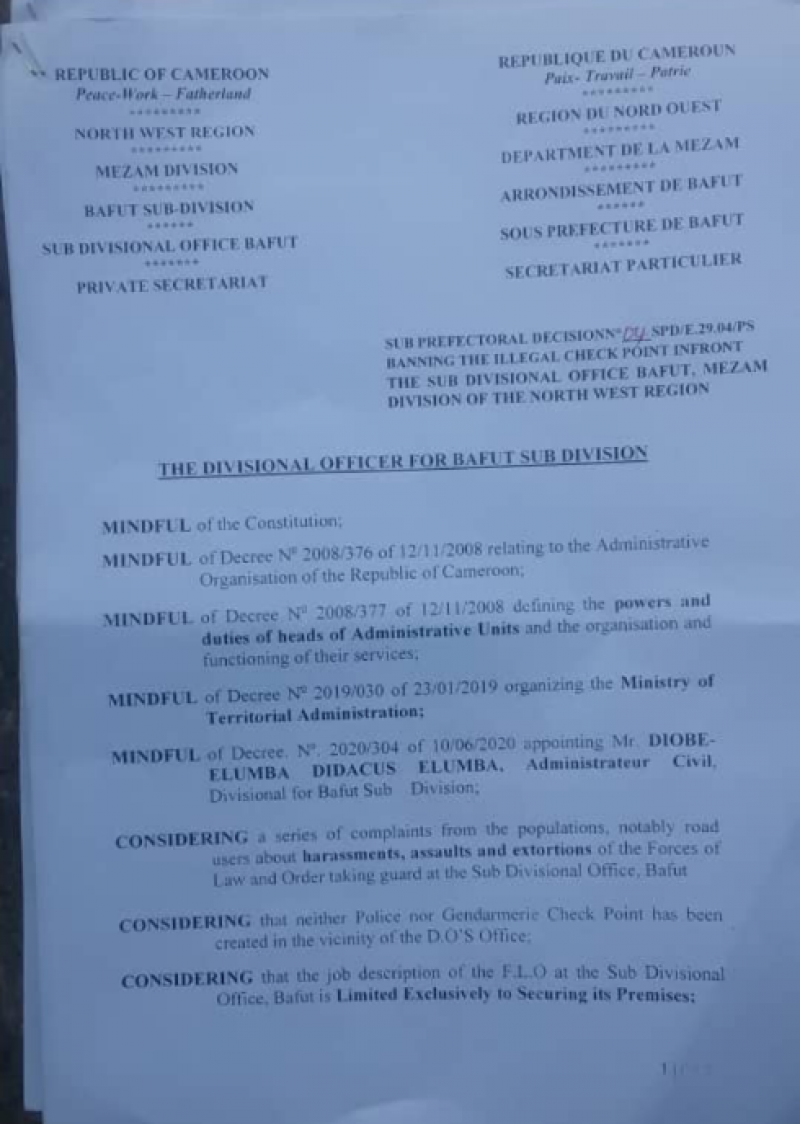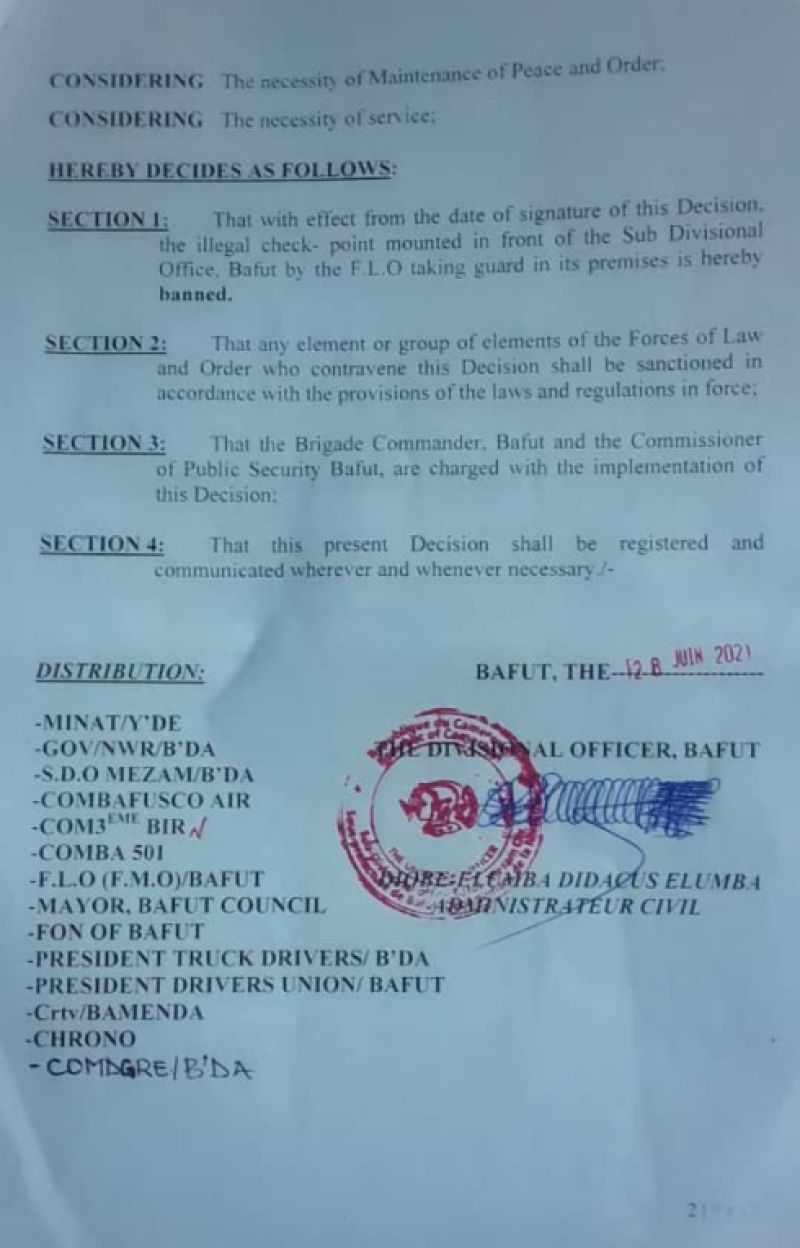 Soon after the decision went viral on social media, some Cameroonians have been calling on their respective Divisional Officers to copy the example of the Divisional Officer of Bafut.
"Hope the D.O. of Kumba III can also stop those 'tax collectors' at Tancha who are exhorting money from 'poor' people," said a Kumba-based journalist. "Even the regular harassment of supposed scammers by ESIR around town is a big problem here."
Another journalist based in Kumba said the D.O. of Bafut "should extend this largesse to the South West Region, especially along the Kumba- Buea road where the business thrives highly. Commuters along this road are groaning under the heavyweight of police extortion. More than 8 collection, sorry control, posts on a road of just 67km."
The journalist says the exaggerated control points along this short distance have orchestrated an astronomical rise in transport fare. Kumba-Buea that was just 1.000 FCFA has gone up to 2.500 FCFA.
"Some controls here have fixed their take from drivers at 2,000 FCFA. Nothing short of that can be accepted. Even when you have all your documents and respect the loading rules, the driver must drop at every stop point," the journalist furthered.