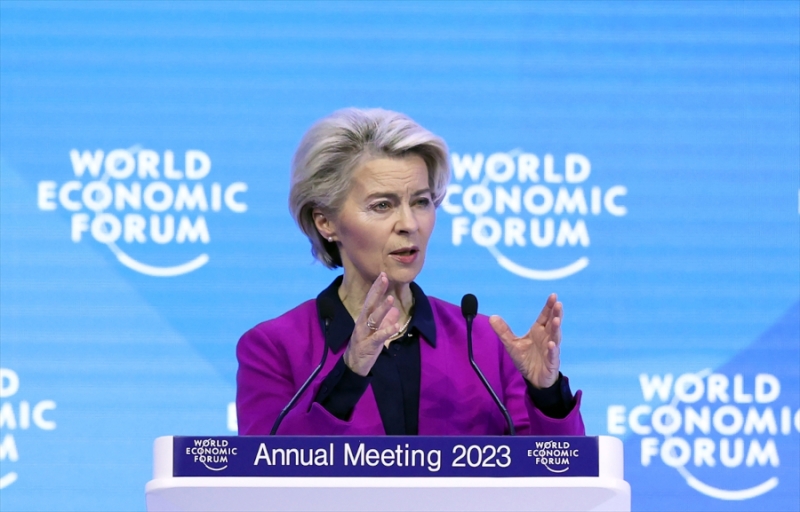 Europe has overcome this dangerous dependency, says European Commission chief at Davos
DAVOS, Switzerland (AA) - The EU lowered the energy demand from Russia by more than 20% in the August-November period last year, European Commission chief Ursula von der Leyen told the World Economic Forum on Tuesday.
In her special address at the forum, von der Leyen said Europe's reaction to the ongoing Moscow-Kyiv war is the latest example in how the EU "has pulled together when it matters the most."
Hailing Ukraine's courage since Russia launched a war on the country last February, she said: "There will be no impunity for these Russian crimes. We are in it for as long as it takes, and stand by our Ukrainian friends."
She said that a year ago, Europe had a massive dependency on Russian fossil fuels built over decades, making the bloc vulnerable to supply squeezes and price hikes.
"Europe has overcome this dangerous dependency. We have replaced 80% of Russian pipeline gas. In parallel, we have filled our storages. Of course, we have reduced our demand by more than 20% in the period from August to November (2022)," she explained.
She also said that thanks to the collective effort, the EU brought down gas prices faster than anyone expected.
"From its peak in August, when it was €350 (around $380) per megawatt hour, it is now dropped by 80% by this month, below the levels of before the Ukraine war," she explained.
- New 'net zero act'
About the EU efforts to develop clean energy, von der Leyen said the "Net Zero Industry Act" will identify clear goals for European clean tech by 2030, that will go hand in hand with the "Critical Raw Materials Act."
"We want to reach net zero in less than three decades. We have to reach net zero, but the road to net zero means developing and using a whole range of new clean technologies across our economy, in transport, in buildings, in manufacturing, in energy," she said.
Stressing that clean tech is now the fastest-growing investment sector in Europe, doubling its value between 2020 and 2021 alone, she said the EU, together with the US, are putting forward almost €1 trillion to accelerate the clean energy economy.
"This has the potential to massively boost the path to climate neutrality, but it is no secret that certain elements of the design of the US Inflation Reduction Act raised a number of concerns in terms of some of the targeted incentives for companies," she said.
"This is why we have been working with our US friends to find solutions, so that you companies and EU-made electric cars can also benefit from the act.
"Our aim should be to avoid disruptions in Transatlantic Trade and Investment," she added.
Aysu Bicer/AA
.
Commission européenne: "nous avons réduit la demande énergétique de la Russie de plus de 20 %"
D'après un discours prononcé par la présidente de la Commission européenne, Ursula von der Leyen, lors de la réunion du Forum économique mondial à Davos
La présidente de la Commission européenne, Ursula von der Leyen, a révélé mardi que les pays de l'Union européenne ont réduit la demande d'énergie russe de plus de 20 % au cours de la période d'août à novembre dernier.
C'est ce qui ressort d'un discours prononcé par Von der Leyen devant les participants à la 53e édition du Forum économique mondial, tenue dans la ville suisse de Davos.
Elle a déclaré que "l'Europe a une fois de plus montré la puissance de sa volonté collective".
La responsable a ajouté, en ce sens, que l'Europe, il y a un an, dépendait massivement des combustibles fossiles russes qui s'étaient accumulés au fil des décennies. "Cela nous a rendus vulnérables aux compressions de l'offre, aux hausses brutales des prix et à la manipulation du marché par la Russie. Finalement, l'Europe a pu traverser cette dépendance dangereuse", souligne-t-elle dans un communiqué publié sur le site de la Commission européenne.
"Grâce à nos efforts collectifs, nous avons fait baisser les prix du gaz plus vite que quiconque aurait pu le prévoir. Après avoir atteint un pic au mois d'août, les prix du gaz naturel européen ont désormais chuté de 80 %, pour tomber au-dessous de leurs niveaux d'avant la guerre en Ukraine", a rapporté le même communiqué citant Ursula von der Leyen.
La 53e réunion annuelle du Forum économique mondial a débuté lundi à Davos, en présence d'un certain nombre de personnalités influentes qui façonnent la politique mondiale et le monde des affaires.
Le forum se tient du 16 au 20 janvier, sous le thème "Coopération dans un monde fragmenté".
AA / Davos / Mennatallah Ahmed