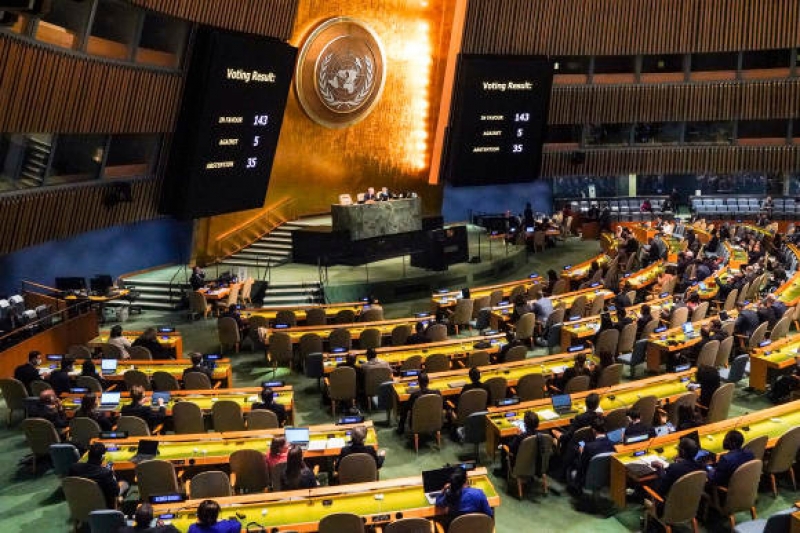 Russia accuses West of dragging Ukraine into prolonged conflict, US says arms shipments prevent Moscow from brutalizing Ukrainian civilians
UNITED NATIONS (AA) - Russia and the US traded barbs at the UN on Thursday over arming Ukraine, with Moscow blaming the West for using the Eastern European country as a ''testing site'' for their weapons.
Speaking at the UN Security Council, Russia's UN envoy Vassily Nebenzia said that Ukraine was being dragged into a prolonged conflict by the West.
''The delivery of more and more powerful weapons systems and their ongoing transfer of them to Kyiv in order to carry out strikes and also the training of Ukrainian armed forces on their own territory means that these states are not only parties to the armed conflict with Russia... but they're also accomplices of war crimes,'' said Nebenzia.
US Deputy Ambassador to the UN Robert Wood called the Russian narrative ''twisted.''
''We are here again, listening to Russia's allegations that arms shipments from the United States and other countries providing support to Ukraine in its self-defense are the grave threat in the Ukraine conflict and not Russia's invasion of its sovereign neighbor,'' Wood said.
''These arms shipments help prevent Russia from further brutalizing Ukraine's civilians, forcing them from their homes and driving up energy, food costs across Europe and around the world.''
He said that arms shipments by the US and others to Ukraine are not the cause of the continuation of Russia's ''needless'' war.
Betul Yuruk/AA