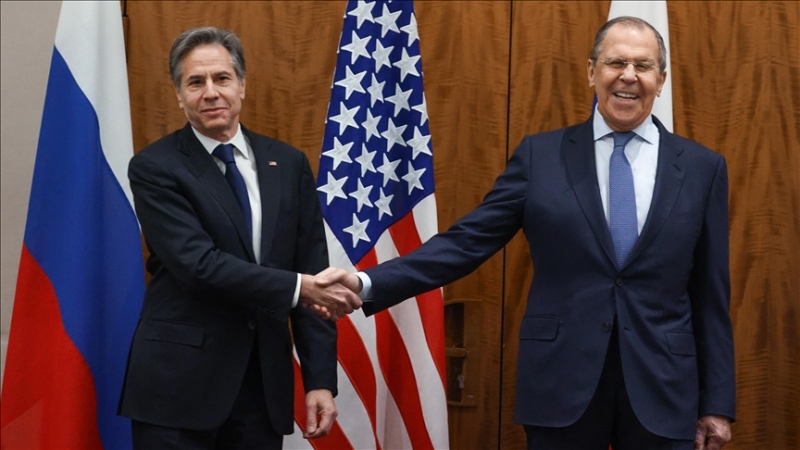 Antony Blinken has brief meeting with Sergey Lavrov, first meeting since Russia's invasion of Ukraine
NEW DELHI (AA) - US Secretary of State Antony Blinken on Thursday asked his Russian counterpart Sergey Lavrov to end war in Ukraine, reiterating that "every country is suffering from the impacts" of the conflict.
Blinken was addressing a press conference in New Delhi after participating in the G20 foreign ministers meeting.
He said that Russia can end the war anytime if it wanted.
Blinken had a brief meeting with Lavrov, which was the first meeting since Russia's invasion of Ukraine. Blinken said that he urged Lavrov to return to negotiations for the New START treaty and return to the path of peace. Russian President Vladimir Putin last week suspended nuclear arms treaty with the US.
"Every country is suffering from the impacts of the Russian War in Ukraine. We have to get food to those who are hungry and help countries become agriculturally sufficient," said Blinken.
"I told the foreign minister that, no matter what else is happening in the world or in our relationship, the United States will always be ready to engage and act on strategic arms control, just as the United States and Soviet Union did even at the height of the Cold War," he said.
Blinken has also warned China that providing lethal military aid to Russia or helping them evade sanctions would be a "serious problem for U.S.-China relations.
The top diplomat also warned that there would be consequences for China should it help Russia. Blinken cited sanctions authorities as one option.
When asked about democratic backsliding and human rights issues in India, Blinken said that both India and the US are the world's two biggest democracies.
We have to hold ourselves to core values including respect for human rights like freedom of speech, freedom of religion and freedom of assembly, he said and added that, "We regularly engage with our Indian counterparts on the issue, as I did with Jaishankar today."
Shuriah Niazi/AA