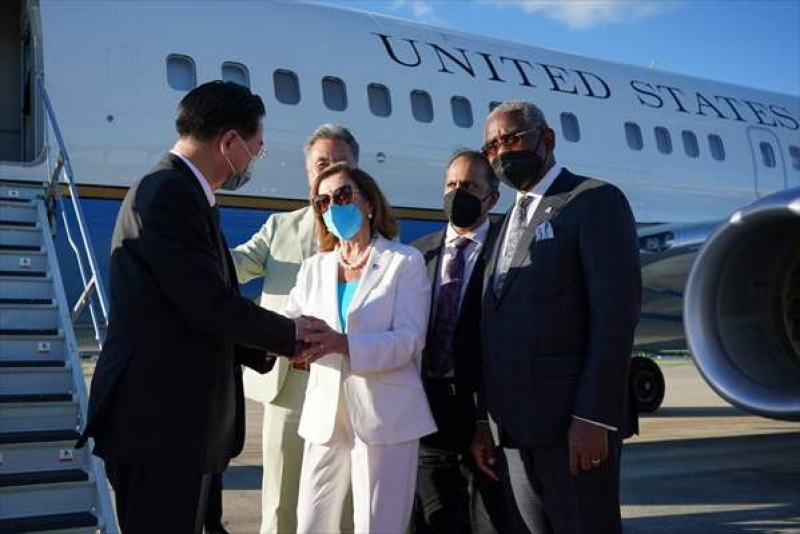 Beijing says Pelosi 'disregarded China's serious concern and firm opposition, and insisted' on visiting Taiwan
ISTANBUL (AA) – China on Friday announced sanctions on US House Speaker Nancy Pelosi and her family, accompanied by "countermeasures" against the US, following Pelosi's Taiwan visit earlier this week.
"Speaker of the US House of Representatives Nancy Pelosi insisted on visiting China's Taiwan region. This constitutes a gross interference in China's internal affairs," the Chinese Foreign Ministry said in a statement.
Beijing also announced at least eight "countermeasures" against the US over Pelosi's Taiwan trip, which was not mentioned in her official tour agenda.
"It gravely undermines China's sovereignty and territorial integrity, seriously tramples on the One-China principle, and severely threatens peace and stability across the Taiwan Strait," the statement said, calling Pelosi's visit an "egregious provocation."
"China decides to adopt sanctions on Pelosi and her immediate family members in accordance with relevant laws of the People's Republic of China," it added.
Beijing has launched massive military exercises surrounding Taiwan after Pelosi visited the self-ruled island earlier this week, against the warnings of China which sees it as its "breakaway province."
China had warned of serious "countermeasures" against undertaking such a trip, including military action.
The eight countermeasures Beijing announced include cancellation of phone call between the leaders of US and Chinese military theaters, the working meeting between the Chinese and US Defense Departments, and suspension of China-US cooperation on illegal immigrants, drug control, climate change.
Pelosi is the first sitting US House speaker who visited Taiwan in the past 25 years.
She led a delegation of US lawmakers that began their trip from Singapore on Monday, followed by Malaysia from where she traveled to Taiwan, triggering angry response from Beijing.
She left Taiwan on Wednesday evening for South Korea and finally landed in Tokyo on Thursday night. Pelosi ended her four-nation Asia trip to return to the US on Friday afternoon.
Riyaz ul Khaliq/AA
La Chine annonce 8 mesures punitives contre les États-Unis
Des sanctions sont imposées à la présidente de la Chambre des représentants des États-Unis, Nancy Pelosi, et aux membres de sa famille
AA / Pékin
La Chine a annoncé, ce vendredi, des "contre-mesures" à l'encontre les États-Unis et imposé des sanctions à la présidente de la Chambre des représentants américaine, Nancy Pelosi, ainsi que sa famille, en réponse à la visite de cette dernière à Taïwan.
Le ministère chinois des Affaires étrangères a déclaré, dans un communiqué, que l'insistance de Pelosi pour visiter Taïwan constitue "une ingérence majeure dans les affaires intérieures de la Chine".
Le communiqué a indiqué que la visite de Pelosi "porte gravement atteinte à la souveraineté et à l'intégrité territoriale de la Chine, sape le principe d'une seule Chine et menace sérieusement la paix et la stabilité à travers le détroit de Taïwan".
Pékin a considéré la visite de Pelosi comme une "terrible provocation", selon le communiqué.
Le document a également noté que Pékin a décidé d'adopter des sanctions contre Pelosi et sa famille immédiate "conformément aux lois pertinentes de la République populaire de Chine".
Pékin a ainsi annoncé huit "contre-mesures" à l'encontre de Washington, en réponse à la visite de Pelosi à Taïwan, selon le même communiqué.
Les contre-mesures stipulent "l'annulation des contacts entre les chefs militaires américains et chinois, ainsi qu'une réunion de travail entre les ministères de la Défense chinois et américain, la suspension de la coopération sino-américaine sur l'immigration clandestine, le contrôle des drogues et le changement climatique", d'après le communiqué.
Jeudi matin, l'armée chinoise a entamé des manœuvres et des exercices militaires utilisant des munitions réelles dans les eaux territoriales et l'espace aérien autour de Taïwan, en réaction à la visite de la présidente de la Chambre des représentants des États-Unis, Nancy Pelosi, à Taipei.
AA / Pékin