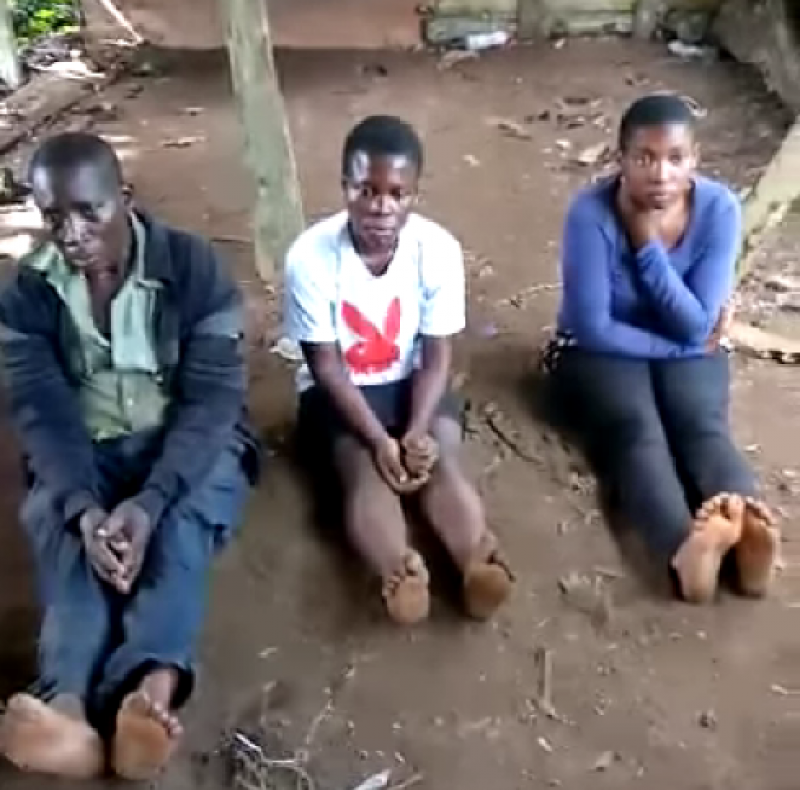 In Cameroon's North West and South West Regions, armed separatists seeking the independence of a country they call Ambazonia want to end anything related to the education of children – especially under a curriculum provided by Yaoundé authorities.
In a latest effort to once more paralyse schools in the area, Cameroon-born US-based activist Eric Tataw Tano published a video Wednesday, October 9, 2019 showing two students and their father in the custody of armed separatist fighters.
"Beginning The Process... We've started the process of soft target. This parent and his children are being preserved for disobedience of Revolutionary Laws. The laws of the Revolution must be respected by all and sundry. Eric Tataw aka The Rock...," this is the caption of the video in which the captors say they are against school in the territory they call theirs.
In the video recorded on October 8, 2019, the two girls and their father are accused of violating the laws of the Ambazonia Defense Force on Ground Zero. A separatist fighter said the following in the said video:
"Today is October 8, 2019. These are some of the students who have decided to violate the laws of the Ambazonia Defense Force on Ground Zero. As you can see, this is their father who encourages them to go to school. He makes sure he provides all their school needs. These are the girls. They attend school in Buea and came to collect their school fees from their father and have been captured by the restoration forces.
"So, we are making this video to tell those who have the intentions of going to school to give it a second thought. As you can see these ones we have taken hostage, know that when you next see them, they will not be as you are seeing them in this video. We are advising parents who want to send their children to school or any child, who wants to go to school, should know that as long as the war is on, what will befall them is bigger than them. That is the message I want to pass across to you. Stay safe! Beware, be warned, don't fall a victim."
Earlier on October 8, 2019, Eric Tataw said in a live video on the Facebook page "Erick Tataw Rock" that schools must not resume in the North West and South West Regions of Cameroon until after the war. He referred to the said area as Ambazonia.
The Ambazonia activist instructed armed fighters to flog school going children and send them home. He says if such a child is seen for the third consecutive time going to school, the armed fighters should "garri" them. "After whipping them for a couple of times, translate into the garri process," he said.
"Going forward, a lot of people are saying that there is need for schools to resume. Who has stopped schools from reopening? Let me tell you one thing, in a revolution, there are laws. Even late Ben Muna said if the children have to stay at home, they should do so. That is the same thing we have been saying because people have to sacrifice in times of war.
"So, there will be no school in Ambazonia until further notice. Now, any child you see going to school, catch them and give them 25 strokes of the cane on their buttocks. Flog them and send them back home… if the parents ask what has happened, say Eric Tataw gave the instructions. Show this video in any embassy in the world that I gave the instructions; my name is Eric Tataw the Garri Master. This is the Law. We have to be going for softer targets.
"When you catch a school principal, keep them in custody until after the war. They will only be released to be principals of Ambazonia schools. We have not given any curriculum for Ambazonia. As such, there will be no school in Southern Cameroon. That is what we have said. Parents should also be flogged if their children go to school…"
Deben Tchoffo, governor of Cameroon's English-speaking North West region had said the population should not be intimidated and should send their children to school. He said all measures have been taken to protect both teachers and school children.
"The security services assure the population that all is set for class resumption. I am appealing therefore to the population of the North West Region that they should send back their children to school. To those that have attempted to send their children elsewhere, bring them back," he said.
Violence erupted in Cameroon's English-speaking regions in 2016 when teachers and lawyers protested alleged discrimination at the hands of the French-speaking majority. The government responded with a crackdown that sparked an armed movement for an independent, English-speaking state.
The separatists started attacking schools and kidnapping teachers and students vowing to make the regions ungovernable by the central government in Yaounde.
Laurent Serge Etoundi Ngoa, Cameroon minister of basic education, said on the eve of school resumption the war is completely paralyzing education in the English speaking regions.
Etoundi Ngoa said more than 4,482 nursery and primary schools in the English speaking regions have been closed, transformed as training grounds for separatist fighters or completely destroyed. He said more than 6,000 teachers and 201, 000 school children are today directly affected by the separatist war.
Before the last September 2, 2019 School reopening, Government urged parents to conquer fear and send their children to school.
A UNICEF report released in August estimates that insecurity spreading across Cameroon's Anglophone regions has left more than 4,400 schools forcibly closed, affecting more than 600,000 children.